Let's Go Restaurant Hopping
Choosing a place to eat can be pretty stressful, especially if the person you're trying to make plans with says that the choice is up to you. Way to put all the stress on me! Well, if you're in the Charlotte area, then you're in luck! I've had the privilege to explore different food joints, and now I am passing my foodie knowledge onto you!
1. Sabor Latin Street Grill
Sabor has authentic Salvadorian AND Mexican dishes. And they are the BOMB!! If you are overwhelmed by menus like I am, then I suggest you try the carne asada nachos!
2. Luciano's Italiano Ristorante
Basically, if you love Olive Garden then you'll love Luci's. They have a lot of options on their menu but I recommend the Shrimp/Chicken Diavolo or the Tomato Basil Fettuccine.
3. La Michoacana
Here you can find all natural ice creams of any flavor you could possibly imagine. They have a variety of popsicles, soft serve, and other yummy snacks! It is also fruit galore, from all kinds of different stuffed fruit to strawberries and crème, you are sure to find a delicious snack there.
4. Mr. Tokyo Japanese Restaurant
Mr. Tokyo is an all you can eat Japanese restaurant. The flat rate is $20. $20 for all the food that you want? HECK YEAH.
5. Metro Diner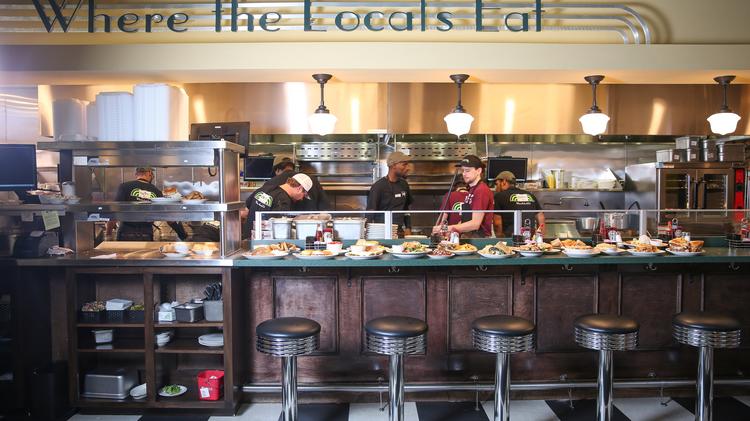 At Metro Diner you can get breakfast or lunch at any time. This place has such a delicious sounding menu that it was kind of hard to settle on something.
6. The Flying Biscuit
The Flying Biscuit is also a breakfast location. Here you will have some of the best grits you have ever tasted! This place is very popular so plan accordingly!
7. Bad Daddy's
The name itself sounds slightly intimidating, and also slightly appealing. They have the BEST fried pickles, so those are a MUST have!
What do you say, Collegiettes? Are you up for a food adventure? If you visit any of these places, be sure to tag our Instagram (@hcwinthrop) on your posts!