8 Reasons Why You Should Embrace the Olivia Pope in You
I watch Scandal every Thursday night and truly wish I could be just like Olivia Pope. 
Part of the reason why I love Olivia so much is because she is the epitome of what every woman should be: Olivia Pope is a fixer. She's a gladiator in a suit. She's confident and in control. She demands respect from the people around her and will always stand up for herself (even to the POTUS). Her courage is unmatched and her wardrobe could make anybody green with envy. Then I realized...we all have what it takes to be as powerful and bad a$$ as Olivia Pope.
Here are eight reasons why we all need embrace the Olivia Pope in us. 
1. Olivia always looks her best, even in the most stressful of situations. 
Always put your best foot forward. You know what they say, "if you look good, you feel good!"
2. No job is too big or too small for Olivia Pope.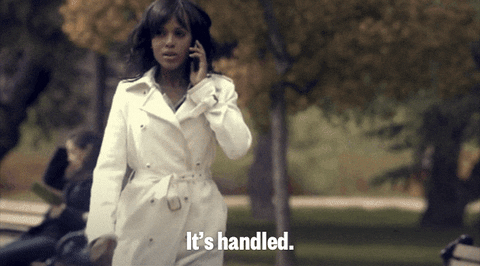 This woman bravely takes on anything this crazy life throws her and so can YOU. 
3. She puts the most powerful man in the world (yes, the president) in his place at least once a day. 
She speaks her mind, no matter what. Don't be afraid to stand up for yourself and always know your worth. 
4. Olivia drinks wine and eats popcorn like they're a major food group. 
Enough said.
5. She knows how amazing she is and proudly lets the world know (in an incredibly empowering, not cocky way).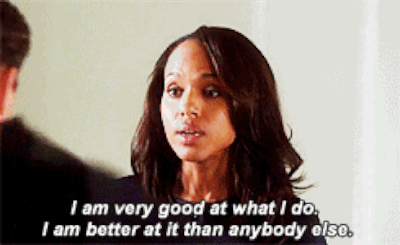 Her confidence is contagious. Be confident, be proud. 
6. Olivia works her butt off but still finds time to let loose and have some fun. 
Don't forget…life is all about balance!
7. She always brings her best to the table and demands the best from the people around her.
If you're giving 100%, encourage your friends and others to do the same! It's a win, win for everybody. 
8. She unapologetically puts herself first. 
And that's the most bad a$$ things any woman can do!
When life gets ya down, pop some popcorn, pour yourself a glass of wine (if you're of the legal drinking age of course) and say to yourself "What would Olivia Pope do?" take a breathe and consider it handled.