5 Holiday Date Ideas You ~*HAVE*~ to Try This Season
Collegiettes, it is officially Christmas time! As the holidays approach, we are all in happier moods and counting down the days until Santa comes and brings us our much-deserved gifts.
With finals coming up and Christmas break being so close, you should start thinking about what you will be spending you holiday break doing. (Other than catching up on sleep, eating yummy homemade food, and working your butt off to save up some cash for the new year to come.)
Whether you have a significant other, a future significant other, or simply a best friend, here are some holiday date ideas that you HAVE to try out this season! And the biggest perk about these ideas?! They won't break your budget. Check it out!
1. Have a Christmas movie marathon
We all know that in some places we call home, the weather sometimes does not always work in our favor. Raining outside? Or just too dang cold to be outside? Try cuddling up with your favorite holiday snacks, hot cocoa and a warm blanket with your BFF/BF/GF and get in the holiday spirit AF by watching all of your favorite holiday movies! 
2. Wear matching ugly Christmas sweaters to a holiday party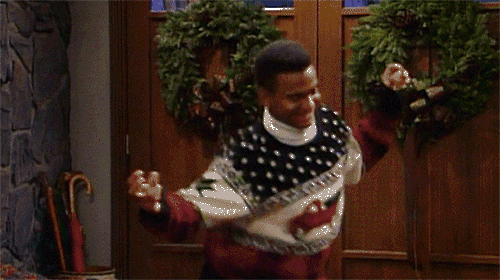 This can definately be something you do with your BFF, but if you and you S/O want some funny photos for memories (or an adorable Insta worthy post!) go to that Christmas party your friend or family invited you to in matching funky sweaters! You two will be the hit of the party!
3. Go ice skating
I sure know some guys or girls who are not as coordinated as others are cringing at the idea of two metal blades supporting you on slippery ice. However, if you are one of the lucky ones who are able to hold yourself up on the ice, then this is the perfect date spot! It's great to have some fun, people-watch and simply just get out of the house! Even if your partner can't ice skate, it's hilarous to go watch others try it! And it's always fun to bond with your date by teaching them (or being taught) to try and stand up. 
4. Decorate a gingerbread house together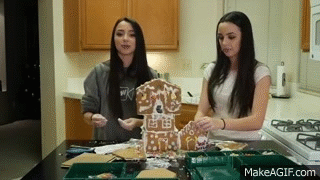 This is just a cliche and the same as carving a pumpkin or decorating eggs during other seasons but is just as fun and ~sweet~ and you get to EAT the leftovers. Like, where do I sign up?! See what kind of creative side your date has and have some fun making a cute house together. 
5. Bake and decorate fun holiday cookies together
If you're not much of an architect and think a gingerbread house will be too hard to make, then cookies are the next best thing.
Make the house smell like the Christmas by cutting out and making some Gingerbread men or sugar cookies! Use frosting and sprinkles to give your cookies some holiday spirit! This is a great way to eat some of your favorite treats and get to know your BFF or S/O better!
These ideas are fun, simple and cheap and will make your holiday super fun for you and the ones you love!
Hope everyone has a great holiday season! HCXO!