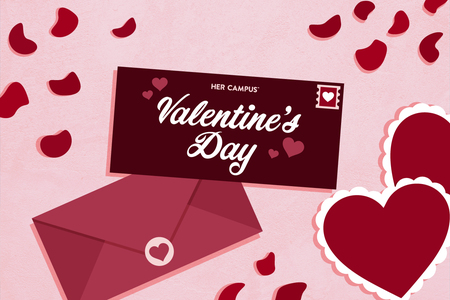 5 COVID Friendly Valentine's Day Dates
2020 might be in our past, but social distancing and masks are still in our future. With Valentine's Day in the coming up, it's important to remember that we are still in a pandemic, and many people are being affected day by day. This Valentine's Day might not look like ones in past years but that doesn't mean it still can't be fun and romantic. 
Here are five Valentine's Day dates that are safe, socially distant and will still be as cute as any other year. 
Painting with your significant other can be a very relaxing thing to do, and also very romantic. You don't have to be Lenoardo de Vinci to have a good time. You can also get your favorite drinks from the store, alcoholic or nonalcoholic. 

You will need some supplies for this, so it's time to put on a mask and hit the craft store! Grab two canvases, a pack of paintbrushes, and some paints, either oil or watercolor. Your painting doesn't have to be perfect, just whatever you make it. You can get inspiration from Google, Pinterest, even social media. Then you can head to the grocery store, if you decide to get an alcoholic drink make sure you're of age and do it responsibly. If not then get your favorite soda, favorite juice and put it in a fancy cup like our parents used to do us when we were younger drinking cider. 

Instead of going to a restaurant, try cooking a Valentine's Day Dinner. Cooking with your significant other is fun quality time. You can still put on your best outfit. Set the table by adding a tablecloth, candles, and you there have your own restaurant at home. 

If you're new to the kitchen or just need some inspiration on what to cook try one of these: Creamy Tuscan Chicken, Cajun Butter Steak, or Citrus Roasted Salmon 

As you shop for ingredients, cook, and eat, remember to have a good time and enjoy the quality time together. Don't stress about the mess ups, those make the best memories. 

 

3.

Movie Night through Zoom

If you can't see your significant other this Valentine's Day because of health reasons or because of long distance or you just want to play it safe, you won't be left without a date this year. 

Thanks to streaming services and Zoom, a virtual movie night is possible. 

We've all grown used to attending classes/meeting or connecting with loved ones through our computer and phone screens so why not have a date that way too.

First: Choose a streaming service and a movie. I am partial to Hamilton on Disney Plus but who isn't right now?

Second: turn on your camera, call up your Valentine on Zoom. When you've connected, hit the share screen button so both of you can watch the movie. Make sure in your settings your Share Computer Sounds button is enabled. 

 

Have something you've been meaning to say, why not write in a letter? 

Light some candles or turn on your LED Lights. Turn on some music, grab some paper and pen (because handwritten letters are more personal) and get to writing. 

If you're both feeling up to it, you can read them aloud to each other or you can seal them and save it for a special occasion. 

If you're a couple that likes to be active or just enjoys the outdoors there's multiple things you can do.

If your city has a hiking trail, why not take a hike. There's nothing like exercise to get the endorphins flowing and have a happy Valentine's Day. 

You can also go to your backyard or a park, grab a blanket, a bunch of food and enjoy the fresh air while eating some good food. Picnics can be a great way to relax and connect with each other without any distractions. 
We go into 2021 with a postive mindset and hopes that it will be better than 2020, we still need to be careful. The pandemic isn't over, and while we don't want to admit it it there's a chance it won't be over for a while. Celebrating Valentine's Day indoors or even though a screen is diffrent but that doesn't make it any less special. 
Reminder: Before meeting up with your Valentine's Day date, make sure you've tested negative for COVID-19 and aren't experiencing any related symptoms.