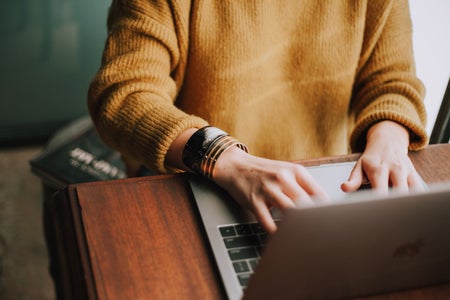 The Key to Happiness: A Profile with 2 Key Kids Workers
During my field experience with Key Kids at Washington-Kosciusko Elementary, I spent eight hours a week with elementary children. A lot happens throughout the day between the students and staff. I had the opportunity to sit down with two workers, lead staff member Sam and staff member Danielle, and find out their true feelings about the program. This is what they had to say.
Lena Zarate (LZ): How did you hear about Key Kids?      
Sam: I just needed a job, and it's similar to what I did back in my hometown.
Danielle: One of my friends works here and since [Key Kids] was hiring, I applied and here I am.
LZ: What is your major?
Sam: I go to the tech school for ideography, so this work isn't related to what I want to do in the future. 
Danielle: I'm a junior at Winona State and my major is Elementary Ed with a minor in Early Childhood.
LZ: Do you enjoy working here?
Sam: I really do enjoy it! It's a hoot and a half!
Danielle: Yes, I love it and enjoy spending time with the kids.
LZ: How do you handle conflicts with the kids and between the kids?
Sam: That's a very difficult question. I'm not really sure, I mostly just talk to them.
Danielle: We try to talk about it and work it out, I usually like to get both sides of the story and then I talk to them about how to properly solve the problem for the next time. If an apology is needed, I'll ask them to apologize to the other child. The conflict between children and adults is handled as well as expected, but it's tough. We just remind them that they need to respect the adults and listen to them. If a child has a strong relationship with another staff member, we'll bring them into the picture and use that to our advantage.
LZ: Is this job related to what you want to do in the future?
Sam: No, not at all.
Danielle: Yes, I want to be a teacher, so it really helps with classroom management skills and it helps me get familiar with kids in a school setting.
LZ: What changes, if any, would you make to the program?
Sam: I don't think I'd make any; it runs pretty well, and everything seems to be working the way it is now.
Danielle: I would just add more structure. I guess that's about it.
LZ: Have you worked at any other school?
Sam: No, I've only worked here with these kids.
Danielle: No, just here.
LZ: Do you think Key Kids is accommodating for all the kids who attend?
Sam: KK is run through the city, and it is accommodating for all the kids. It provides beyond enough for them! The city provides care and financial assistance to keep the program alive.
Danielle: Yes, I think it's well accommodated and a lot of kids' [parents] don't have to pay for it, since it can be funded through the state.
LZ: What would you say to someone who is considering working at Key Kids?
Sam: Definitely do it. It's crazy, but it's fun, and they keep you on your toes.
Danielle: It's a lot of fun. But definitely be prepared, there are many ups and downs! Like I said, it's really fun and the kids make it totally worth it. 
If you're interested in working with children, check out Key Kids and search for any openings that you'd be the best fit for.