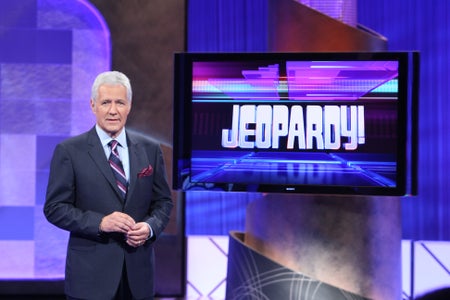 CBS Television Distribution
The Future of Game Shows Are in 'Jeopardy!': A Farewell to Alex Trebek
When I heard the news that Alex Trebek had passed away Sunday, November 8 due to Stage IV pancreatic cancer complications, I was gutted. I sat shell-shocked and sobbing for nearly an hour. It felt like the laser beam sound effects from the program had effectively sliced me into smithereens. 
I couldn't believe it. 
For 36 years, he walked up to the podium, looked the knowledge-hungry viewers in the face, and said, "Good afternoon. I'm Alex Trebek."
Most of my life has been marked with comments of "you're so smart" or "how do you know all that?" and my answer is almost always because of my trusty game-show host, Alex Trebek. He was more than a host. He felt like a teacher, a friend. 
Perhaps it's because I've always been an old soul; but when 3:30 p.m. rolls around, I was raring to go and learn something new with my favorite quiz show, Jeopardy! 
Even if you weren't a frequent viewer of the show when you need to think of something, what little jingle plays in your head? 
I know it's the distinct *do do do do-do-do-do* of Jeopardy! The show permeated the minds of even those who didn't like it. 
Alex provided solace on sick days. When I felt I couldn't do anything productive with a stuffy nose, I could stuff my young brain full of tidbits and trivia. 
Alex provided friendly competition. My dad and I would sit and try to best one another in our knowledge.
Alex showed us it's okay to be wrong. I'd watch along, shout out the wrong answer confidently and then soak up the correct answer. He helped me grow in that way. 
He made learning fun. 
In somber remembrance of Alex Trebek, here are a few of my favorite quotes. 
1. "I'm curious about everything. Even things that don't interest me."
2. "Take your job seriously. But don't take yourself too seriously."
3. "We are all experts in our own little niches."
4. "Don't minimize the importance of luck in determining life's course."
5. "My heart seems to heal, so that speaks well for my future."
6. "I don't spend any time whatsoever thinking about what might have been."
7. "Don't tell me what you believe in. I'll observe how you behave and I will make my own determination."
8. "If you can't be in awe of Mother Nature, there's something wrong with you."
9. "I think what makes Jeopardy! special is that, among all the quiz and game shows out there, ours tend to encourage learning."
10. "My life has been a quest for knowledge and understanding, and I am nowhere near having achieved that. And it doesn't bother me in the least. I will die without having come up with the answers to many things in life."
His memory will live on in the shows to follow, and not a Jeopardy! board will go by where I don't miss the enduring kindness, humor and light that he brought me and many, many others. I hope for his sake and the sake of all the Jeopardy! fans, Alex can make it a True Daily Double.