The Daily Life in Quarantine
Since quarantine has been extended another month and will probably take over my 21st birthday, I've decided to share what I've been thinking. I like hearing what other people are doing in "the great pause." People are either searching for something to do or catching up on all the Netflix shows. I don't think there's anything wrong with either. This time should be spent for you to take care of your health. I find it silly how a world pandemic is happening, but my professors at school are expecting me to write 15-page papers.
I wrote a schedule for myself that I've been able to keep up with consistently. The only annoying thing is that it repeats (which yes, I am aware that's what a consistent schedule is, but it's boring), and there's a few changes to it, but nothing big. Not much can happen when you're at home all day.
I've been trying to wake up and actually get out of bed between 9 and 10 a.m. On my more productive days, I'll find a way to get up at 9, but most of the time, it's 9:45 and closer to 10. It's rare that I'll put on another pair of clothes. I usually just stay in what I'm sleeping in: an old musical t-shirt (I have like ten of them) and shorts.
I find myself at ease, doing things I had a difficult time with before. And maybe it's the higher health-risks, but I consistently take Vitamin C now. I hold myself accountable for it too. I'm always with a bottle of water, and if I realize it is missing from my side, I freak out. On the other hand, not as healthy, but coffee is always next to me when I do homework. I push homework within the first two to three hours I wake up, so I get it out of the way. By the time it's noon or 1 p.m., I am done for the day.
Knowing myself, because of time and if I procrastinated on any of my homework time, I give myself a free hour. I use this time for social media on most days; making posts for Her Campus, or my photography pages, then finally, doing any dishes and cleaning for my mom. If this quarantine lasts long enough, I'd like to help my mom with her art business. Quarantine has given her all the time in the world to paint, and I love seeing how happy that makes her.
In the middle of the day, even just 30 minutes of writing is enough to make me feel accomplished. 
I remember as a kid I used to be able to write for hours, but in college, I'm lucky enough to find five minutes. However, I am really starting to learn it's all pure distractions. Less people talk to me when I'm at home, which doesn't upset me; it's just how it is. When you're in your college town, going to school or work, you see a community of friends and people you're always with. That's who you communicate with, check up on and say hello to. Quarantine is forcing limited contact with the community and more quality time with family. This is either bonding relationships or destroying them. For me, most of my contact with people have been through Snapchat ("snap"), which, for me, means one picture a day (I don't snap to others very often). However, I've been in a lot of contact recently with my cousin, Isabela. She lives in a suburb in Illinois, and we never used to talk as often as we do now. We call each other constantly. I am grateful for her, and I love hearing what she's up to. While I've been in contact with old pals and living with family, some people don't have anyone right now. Quarantine is lonely. There has never been more of an important time to check up on one another.
My school's dance classes are on Zoom once a week at 3:30 p.m. However, I made this my consistent time to work-out. This has been a great and consistent outlet I never miss. When it's not for school, I have been able to find free videos to get physical, whether it's Instagram live, CLIStudios, or various sites, like FullOut. These are just dance things, but I've ran outside a couple of times (And if you know me, I don't like, ever run) and have taken classes on YouTube with my mom. Don't get me wrong—I am exercising every day, but I am also snacking constantly. This leads to the great food I've had in quarantine.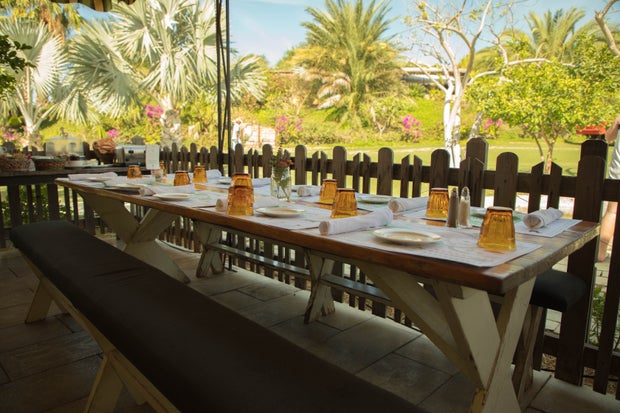 Alex Frank / Spoon
Every late afternoon, my mom's boyfriend visits us. He lives alone, but basically has been spending dinnertime at our house. Together, with his Costco membership, my mom and him have been making the BEST dinners. With that said, yes, I've been spoiled. Every Sunday at noon is omelet brunch. Dinners are various but have never been bad. We try new foods, but the presentations I've seen since quarantine began have sparked my interest.
I learned how to make French toast the other day. It wasn't as hard as I thought it would be, and now, I have a meal I can make with my roommates for next school year!
The best afternoons are when it's nice outside, and we order take out. Last week we ordered Buffalo Wild Wings and had a picnic at a nearby park. 
At the end of the day, I allow myself to do activities I didn't do earlier. Sometimes it's writing, but a lot of times I'm editing or reading. This is another thing I never do: READ. At least, I never got to read books I enjoy. I've been reading the book Circe, originally for the Winona state English club, but I'm getting to a good point in it where it just caught my attention. If there's anything school deprives students of, it's letting them read what they want to read.
Don't even get me started on how many movies and shows I've been seeing. I watch something every night now. I've noticed the last couple days I lost interest, but that's also because I have no interest in watching Downton Abbey (I'm hoping that will change or I'm waiting 8 seasons to get my television back from my mom). The first week I was back home, we started the show Jack Ryan, which I highly recommend seeing. The next week we watched back-to-back Harry Potter movies, a good throwback time-spender. I found The Wonder Years (super old show) on Hulu and Revenge, which was my favorite show to binge-watch. However, I'm still patiently waiting for the next seasons of How to Get Away with Murder and The Society.
Quarantine has me doing things I've always wanted to do. I hope everyone else is using the pause to do something they've always pushed off. I am journaling again, and considering I used to only journal every 6 months, I hope this puts me in the habit to prioritize writing like I used to.
With that said, make sure to continue staying home! People may not realize it, but staying home isn't just saving others, it's saving you. Wash your hands and read on your house's porch or deck. The weather is getting warmer when we need it most.