Amanda's Rad Recs: 5 Artists You Need to See Live
I like concerts a lot. So much so that one might say I'm a concert enthusiast. I've been to 27 concerts total and I won't be slowing down anytime soon. Hearing music I love live is so different compared to hearing it through the speakers of my phone or computer. Being in the crowd and screaming the words with the artist is cathartic—one might even say it's addicting. Maybe that's why I can't stop adding new concerts to my agenda. 
However, I'm here to recommend you the best of the best. Whether you've heard of these artists and you've been on the fence about whether the ticket is worth the money or you've never heard of them but you're looking for a new artist to swoon over and eventually hit up their concerts, this list will be a guide for the best artists I've gotten the chance to see live.
1.  LANY
I saw LANY live for the first time when they opened for Troye Sivan's Blue Neighborhood tour in February 2016. Their frontman Paul Klein's energy is unmatched and immediately when I heard their catchy and relatable lyrics, I knew I needed to become a fan. I listened to their music for weeks and ended up waiting for the day I'd get to see them live again at a show that was just their own. I missed them performing in Minnesota twice, but finally this past summer, the day came. In June I flew out to Oregon to visit my friend Kasey and as a Christmas gift she had bought us tickets to see them. 
They performed in an auditorium-style venue with seats on the floor and the balcony, which was very different than the general admission concerts they'd been playing at. The energy was off, and I was worried it wasn't going to live up to my expectations. However, Paul could feel the energy being held back by the seated nature of the show and knew he had to do something about it. Three songs in, he said the magic words. 
"Come down front. Fill in these gaps. I don't care about security, don't let them tell you to go back to your seats, come down here." 
People scurried, trying to get as close as they could. We were about 11 rows from the front but by the end of our trek, we'd made it to about the fifth row. 
"Now this feels like a LANY show," he yelled, and throughout the show he continued reassuring us that this was their show and to not worry about security. 
There's nothing I remember more about this show than Paul's dedication to the crowd and making sure they were having fun and enjoying the music the way he knew they could. He's an astounding performer and I guarantee that if you get the chance to see LANY live, you won't be disappointed. 
2.  5 Seconds of Summer
This next band won't come as a shock to anyone. I've been a fan of 5 Seconds of Summer since 2013 and their live shows are what keep me coming back. I've seen them five times now and I would see them a hundred more. I recommend seeing them in a general admission venue if you get the chance as opposed to an arena, as the experience of being surrounded on all sides by people loving the music and the band as much as you do is unreal.
My favorite show of theirs that I've been to was in September 2018 for their Meet You There tour. This was the fourth time I saw them and I'd already seen them general admission, so I knew it was going to be a good show, but the album they were touring made for the greatest setlist I've ever experienced. 
Their ability to get a crowd going crazy and to make their fans feel at home in the lyrics they sing is unmatched and I feel the most comfortable at their shows. I know the words, I know the members, their shows feel like home. I definitely recommend getting to know the setlist before the show, as knowing the words makes their shows way better. 
3.  Twenty One Pilots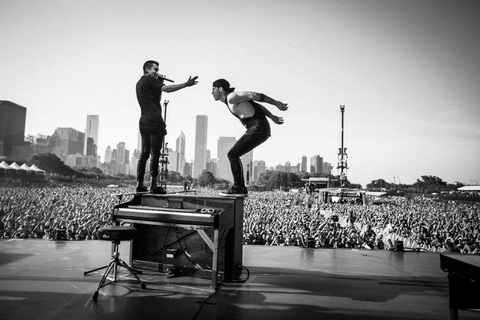 This band always shocks people when I say that they're one of my favorite live shows. For three years, they were at the top of my list of the best shows I've ever been to and I would still argue that their show was absolutely insane.
I saw them for their Emotional Roadshow tour and the actual production of the tour was the best production I think I'll ever see. The lighting, the stage set-up, the overall set-list and performance: absolutely perfect. 
I was barely a fan of them when I went to the show but I left in awe of the band I had just fallen in love with. I still look back on that show every time I see a new one and think Wow, they really were good.
4.  Shawn Mendes
All right, I know what you're thinking. Shawn Mendes shows can't be that good. I thought the same thing. I've been a casual fan of Shawn for years and had always wanted to go to a show just to hear him live. This past summer while I was in Oregon, my friend who is a much bigger fan of him than I am had gotten us tickets and I was just excited for her to get to see someone she adored. 
Two songs into the show, I knew it was going to mean more to me than just a show for a friend. I was sitting alone, as our seats were on opposite sides of the floor, and I thought I wouldn't have very much fun. I was wrong. 
Shawn was electrifying, his talent is crazy and I would say there's no one doing it like him right now. His show and production were simple but breathtaking. The visuals were so well chosen and eye-pleasing and his stage suited the show super well. 
His overall performance was nearly flawless and whether you're a fan of his or not, if you go see him you will be pleasantly surprised. I would recommend his shows over and over again. 
5.  Niall Horan
This is another show you will not be surprised to see me raving about. Yes, Niall Horan is my favorite person on this earth. And yes, his shows are fantastic. 
I will say, though, that I do feel a lot of the reason I loved his show so much is because of how much I enjoy him as a person. The surreal experience of seeing someone you love doing something they love (which also happens to be something you love to watch!) is something I'll never forget. It's obvious how much he loves being onstage and you can feel that warmth radiate from his performance. If you are a music lover, you'll be pleasantly surprised. 
Overall, any concert is worth going to. The electricity that runs through my body during a show is unlike anything I've experienced anywhere else in life. I encourage you to see as many concerts as you can because music is meant to be listened to live and you can feel that from any performer! 
GIFs provided by Giphy.com