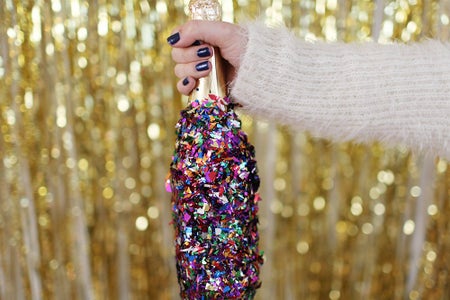 Molly Longest / Her Campus
The Reality of New Years Resolutions
It's that time again – one year ends and another begins. We make promises to ourselves to change and to become better versions of ourselves. Despite our best efforts, in about two weeks that "go to the gym everyday" resolution becomes a "once a week" resolution and your "save money" resolution falters because of a new sale at Sephora. Resolutions don't normally last, and I think it's because we don't truly believe in them. We make these resolutions because everyone else does, and when you can't think of one, you stick to the standard "get in shape" or "save more money" resolutions, which are actually not that easy.
Resolutions don't need to be this life changing decision and a lot of people stop pursuing these resolutions because of that. You don't need to become a whole new person at the start of the year, instead, you should think of a plan that is more easily attainable. For me, I know I never follow through with my resolutions because I think of super drastic ideas that can "change my life," so this year I tried to focus on smaller goals that are easier to achieve. That rewarding feeling of attaining smaller goals is so much nicer than going for big goals which are extremely hard to fulfill. For me, instead of making my resolution to work out multiple times a week, I made it to "start and maintain a workout routine that works for me."
Sometimes it's just the way you word your goals that make them that much easier to achieve. For me, I began to achieve my resolution because while I forced myself to go to the gym, I thought of days I could potentially throw in an hour or two of gym time, while also giving myself a make-up day for if I'm too busy to go one of the other days!
Make sure you cut yourself some slack and don't beat yourself up if you can't achieve your goal on a certain day or by a certain time! You don't need to be perfect! Mistakes happen and as long as you keep at it then you can achieve your goals!
Sometimes when your resolutions are too broad, it makes it harder to believe in them, and therefore harder to achieve. Much like with my gym resolution, I made my next resolution more specific, so it is easier for me to work towards. I changed it originally from "work on my mental health" to "set aside ten minutes per day to focus on me." I was told about this app called Woebot so I tried it out. It is a computer-generated conversation where you can check in with how you're feeling and then it works through some cognitive behavioural therapy methods with you for how to handle certain situations when you need it! I'm currently on a ten-day streak with the app, and it allows me to set aside some time for myself each day and reflect on me.
This year I decided to make multiple small goals instead of a one big one, and so far (even though it's not very far into the year yet) I already feel that I'm on the right track! You also need that motivation to keep at your goals, so you have to truly believe in what you want to do to better yourself! And even if your resolution does fail, where is the rule that you need to begin it right in January? Think of something you truly want to do and even if you start in July, it's still better than nothing. Work at your own pace at a resolution of your own size. You don't need to do something drastic because other people are. Even if you choose a resolution as simple as "smile more," it is still a goal and you best be proud of yourself for working on it!