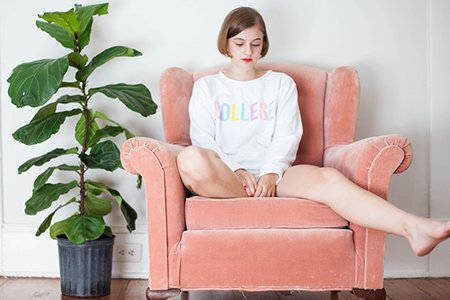 Kristen Bryant / Her Campus
An Introvert's Guide to Self-Isolation
If you are a good, caring citizen, you probably have been practicing self-isolation for the past few weeks or so. For most, this is a drastic change from a fast-paced, socially active lifestyle. And although I can't say I particularly love staying cooped up in my house for the foreseeable future, I'm kind of thriving because I'm an introvert. Basically, I get my energy from internal stimuli like self-reflection and hobbies, rather than external stimuli like hanging out with friends. When quarantine hit, I was already used to spending my weekends at home, partaking in random hobbies and binge-watching Netflix. Here's a few things I've been doing for years that could keep you sane during quarantine:
1. Household hobbies
As an introvert, I take great interest in learning new skills and trying out hobbies. It helps me feel accomplished in a time where productivity is difficult to achieve. Take some time out of your schedule to learn something. I love baking. I've spent the days finding recipes that take few ingredients and are easy to make. Right now, common food items like milk, butter and eggs are scarce, so simple vegan food swaps (like oil or applesauce instead of eggs) are pretty useful.
2. Establish a routine
Introverts typically run on routines. We don't tend to enjoy novelty or unexpected changes. I find a loose schedule helps me manage my boredom, while allowing room for me to chill out too. I tend to wake up, exercise and eat around the same time every day. I also tend to do schoolwork for the same number of hours every day. Other than that, I leave my schedule open. To help me stay motivated, I do my morning routine as if it were a normal workday. I always get dressed, do my hair, put some makeup on. It just helps me feel better about myself which motivates me to get things done.
3. Appreciate the little things
Introverts are great at noticing little things about the world. We tend to find our happiness in the mundane, everyday aspects of life. A cup of tea, watering a plant or petting your dog are great examples. Once you find your happiness in the ordinary, you start to find peace within your own home.
4. Reach out to others
This is the one thing introverts seem to have trouble with. I find it super hard to start a conversation or to ask someone how they are. But in times like these, it is necessary to check in on one another. To get through this, we all have to work together by staying apart. Luckily, we have technology! So please, reach out to your loved ones.