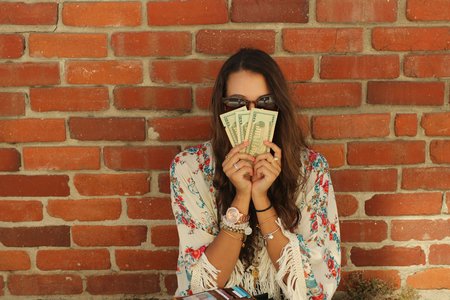 Kellyn Simpkin / Her Campus
Expensive Mistakes to Avoid Making
Buying Brand New Clothes
If you're looking for a specific, new item of clothing, like a tight red skirt or a white tube top, it's worth checking out thrift stores to see if anyone has disposed of a hidden gem. Secondhand clothing is affordable and good for the environment, and although you probably won't commit to shopping exclusively at the Salvation Army, it's worth checking out. Another alternative to buying brand new clothes is browsing eBay. A lot of people clean out their closets and sell clothes from well-known brands on eBay but there is a certain risk associated with this type of online shopping. You have to trust that the clothing item will look how they present it and higher-end brands have a higher risk of being knock-offs. However, I've had great luck with people selling Aritzia, Free People and Levi's clothing. I think you just have to look at the reviews of the buyer and trust your instincts with this one.
Buying New Books
Websites like Thriftbooks offer a super cheap price for books that can be shipped right to your house. Many of these books are used, but still in great condition and honestly, Harry Potter for $3.99 is just too good to be true.
Ubering Everywhere
Uber is super convenient, especially if you're dressed to the nines in heels with a group of girlfriends. However, there are many places that you can walk to, believe it or not. I definitely cave on this one from time to time but that unnecessary ten-dollar trip makes me feel super guilty. Ten dollars isn't going to kill me, but neither is getting up and walking for ten minutes.
Vaping
Vaping can cost anywhere from $70 to $200 a month. Yeah, it can help in the process of quitting cigarettes, but this is still one pricey habit. There is a lot of uncertainty surrounding vaping and the negative effects it can have on our bodies. The number of severe lung issues documented as a result of vaping is enough reason to avoid the hobby and so is that extra cash that'll go towards a less expensive vice.
Buying Food You Won't Eat
It's fun to try new food, but don't buy it if you know you won't enjoy it. Don't kid yourself. If you've never been a fan of strawberries, you probably won't magically start loving them. I feel like this seems obvious but is a lot more common than we think. Sometimes you just want to love something because it's super healthy and trendy but it's not going to taste any different. If you pay attention to the food that goes bad in your fridge, you'll probably start to realize what to avoid buying.
It's easy to overlook expensive mistakes we make if we aren't paying attention to cheaper solutions and unnecessary purchases. Simply becoming more aware of these spending habits will help you in the long run.