Drake & Cultural Representation in "HYFR"
One of our past writers for Her Campus at Wilfrid Laurier wrote this piece for a Cultural Studies class here at Laurier. It discusses the portrayal of Drake's religious and Canadian identity through his music videos, and we wanted to share this on her behalf!
*Because this is a school assignment, it has not been edited*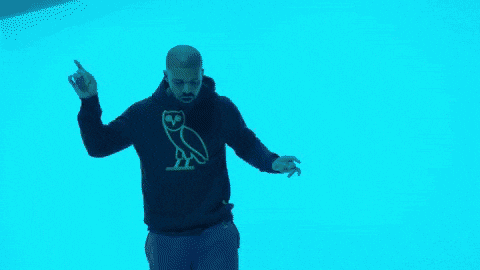 Music videos have become increasingly relevant to artists within the presentation of their music as it provides another opportunity to exert cultural meaning within the boundaries of a song. Since celebrities are constantly followed by their audience, all public releases and appearances that we have access to also contribute to and shape their public identity. With four Grammy awards, a net worth of $150 million, and 61.9 million followers on Instagram, hip hop artist, Drake's identity is constantly being interpreted by his audience. His hit song, HYFR (Hell Yeah F***ing Right) featuring Lil Wayne from the album, "Take Care" has been instrumental in touching on his religious and Canadian identity through his music video performance.
Before assessing Drake's song, it is imperative to understand traditional notions surrounding identity and hip hop. An artist's identity is often formulated through performance and popular culture. The identity of artists as we understand it is by the representations that they put forth and we deconstruct. Drake's identity has been fluid throughout his rise to fame as he draws on different aspects of his life and beliefs on a song to song basis. As a hip hop artist, Drake has received a significant amount of criticism due to his diversions from the origins of hip hop. Hip hop is a cultural production that was born out of a lack of opportunities for poor, young, racialized individuals. Hip hop is thus strongly associated with Black identity, locales within the United States, and authenticity. As a Canadian who came from a working-class family, many argue that Drake's upbringings do not align with traditional hip hop struggles. Therefore, the cultural significance of Drake's music as a hip hop production is often in question. However, it is important to note that hip hop is shaped differently within each place that it is performed due to the ideologies that each geographic location maintains. Within Drake's music, he often articulates the fact that he is Canadian, which influences both his identity within Canada but also in America, as his identity can be interpreted differently within different countries.
Drake's song HYFR is accompanied with a music video that depicts his "re-bar mitzvah" with family and friends. The video is filled with signs and symbols directly linked to his Jewish religion, while the actual lyrics of the song itself have no correlation with this religious tradition. In order to achieve an in-depth analysis of this piece, the lyrics and the video must first be evaluated separately to achieve a better understanding of the cultural production and semiotics at work within this piece. The general theme of the lyrics in HYFR is the depiction of Drake's rise to fame. I feel as though through the lyrics of this song, Drake expresses his frustrations surrounding this process.
"Interviews are like confessions
Get the fuck up out my dressin' room
Confusin' me with questions like"
These lyrics indicate that his interviewers focus surrounds getting a story, rather than actually getting to know Drake and his music. In the context of this song, interviewers are considering their word choice specifically to manipulate Drake into expressing more than he intends to share with the world during his interview. The next set of lyrics that drew my attention are the following:
"She asked
What have I learned since gettin' rich
Yeah I learned workin' with the negatives could make for better pictures"
I perceived these lyrics to mean that Drake has grown used to the negativity and criticism that comes with being a global hip hop celebrity that does not fit in to traditional hip hop characteristics. Thus, he has now accepted that even with the hate that comes with being a Canadian and Jewish hip hop artist, his music and his life are better.
The music video begins with a clip of Drake saying "Mazel Tov" meaning "congratulations" in Hebrew. Later we see a clip stating that Drake chose to get "re-bar mitzvah'd" as a "re-commitment" to the Jewish religion. It is relevant to note that prior to this music video, Drake had very little exposure surrounding his religious beliefs, and many were unaware of his religion. The rest of the music video depicts accurate Jewish traditions, and certain embellishments that I believe illustrate Drake's disrespect for his religion.
Early on in the video, Drake is seen standing with his friends in front of a synagogue that is clearly not in Canada, due to the palm trees surrounding it. The next clip is inside the shul, where there is both an Israeli and American flag. This speaks to Drake's Canadian identity. Many of Drake's music videos that take place in Canada present clear distinctions of their geographical location. A bar mitzvah is an important tradition that is meant to be with family and friends, meaning it most often takes place in your city of residence or in Israel. Thus, by making the clear distinction that this religious tradition was taking place in America, Drake is excluding his Canadian identity from this music production.
Drake is then shown following traditional bar mitzvah rituals, such as reading the Torah and kissing his tefillin. When the clip changes to the individuals in attendance, there is a mix of appropriately dressed individuals, such as men who are dressed in a suit and wearing Kipahs; there are also some dressed more casually, which is a sign of disrespect on the grounds of a synagogue. Most notably, Drake's cake is modeled after a Torah, which he later takes and smashes. This music video can thus be interpreted in two ways; the first being that the Jewish tradition of a bar mitzvah is a fun and appealing celebration for Drake's youthful audience who may be considered the target market for this song and video. The second being that the video is a disrespectful mockery of the Jewish religion utilized by Drake for the purpose of presenting his religious identity in an appealing manner. With both interpretations in mind, it leads to the conclusion that Drake's religion is a useful theme to draw on while he changes roles and represented identities from song to song. Therefore, he is not representing Judaism, he is using the interesting and attractive aspects of the religion to his benefit and in the formation of his represented identity.
Overall, I believe that Drake draws on his authentic aspects of his identity that diverges from traditional hip hop since his identity lacks a significant amount of connection to the traditional hip hop artist. Thus, he utilizes his Canadian identity within his music to articulate his authenticity within hip hop artists. Similarly, he exploited a sacred Jewish tradition in order to identify his religion within his identity in an appealing manner to his target audience. Therefore, the cultural significance associated with HYFR is as follows: Drake strays from the traditional hip hop identity, and as such, he makes an effort to highlight his authenticity and counter-culture within the hip hop community. While this benefit Canada as a country, as he "put us on the map", it made a mockery of his religion. Furthermore, the cultural significance of the song HYFR is that Drake's identity is not fixed within the hip hop community and that he thrives on addressing his authenticity and counter-cultural traits but can be disrespectful in the process of highlighting his Canadian and Jewish identity within his music.