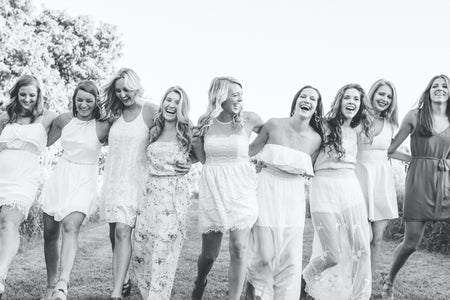 Cassie Howard / Her Campus
The Truth About Sororities
Let's just cut to the chase here. If you are considering joining a sorority at WSU, you are in for a ride. Yes, that means a ride full of ups AND downs.
Don't get me wrong, being a part of a sorority has been a huge blessing in my life. It has taught me so much about my own character; my strengths and weaknesses, what makes me tick and how to best manage my time. Becoming a part of Greek Life provided me with a community on campus, an immense amount of connections with other outstanding organizations, and some pretty memorable social events.
Most importantly, raising money for an amazing philanthropy and helping fulfill and contribute to a greater purpose outside of Wichita State Greek Life. 
What they don't tell you is that there is so much more that goes into the sisterhood than recruitment. It's easy to focus on the recruiters in color coordinating outfits and faces full of makeup, but when the door shuts and the last recruitment party concludes, we all change into our sweatpants and throw our hair up into comfy messy buns.
If you haven't already noticed, social media does a terrible job at depicting this reality. Sorority girls are different than the glamorous shots advertised on their Instagram. 
After you get your bid and the festivities of Bid Day are over, you'll begin to realize it's not always glitter and smiles. It's experiencing being a part of a large group of women with varying opinions, unique personalities, and different backgrounds than you. As much as everyone says they love all of their sorority sisters, I can almost guarantee that actually "liking" every single one of them is not going to be easy. There is going to be some drama and conflict... but also plenty of giggles and coffee dates.
If you decide to pursue a leadership role within a sorority, prepare to dedicate plenty of time and work. Get ready to learn how to be comfortable with messing up and knowing when to acknowledge your faults. If there is ever a good time to mess up, it is now! We are in college. We are messy. We are all still learning. Stepping into a leadership position within a sorority is the perfect way to get in touch with new skills.
Being a leader comes with others questioning the way you lead, the decisions you make, or your ideas. I don't know about you, but I am extra sensitive to criticism. This is an ongoing struggle of mine, but it has taught me a lot. When people question the way you want to do things, you get the opportunity to prove yourself. Work your booty off to make sure your idea succeeds and that others will benefit from it. And if it doesn't work, try again! Whatever it was, you learned from it.
I could go on and on about everything I have struggled with, learned from, and enjoyed about being in a sorority, but it would be a book--not a blog post. So, here is the real truth about sororities:
1) It is not always going to be easy.
A huge chunk of your time is going to be dedicated to this organization. It will be difficult to manage at times. There is almost always an event or a meeting to go to, sometimes mandatory, sometimes not. The fun part is, you get to connect with women in the same stage of life as you and lean on them for support when you need it.
2) It definitely isn't cheap.
I don't know about you, but balancing work, school, and a social life all at the same time can be tough! Sororities are expensive, but the experience and memories you gain from it give back to you tenfold.
3) You grow into the woman you are meant to be!
When I first joined a sorority, my main goal was to find good girlfriends. I soon discovered that it was harder than I thought. It took a long time to feel completely comfortable going to meetings; I wondered what the purpose was sometimes.
Questioning the leadership and wondering why things were being done a certain way led me to take steps out of my comfort zone to get more involved and see change. I went to Greek Retreat, participated in Songfest, got the lead role in Hippodrome, was voted into an important leadership role during my second year, and planned/executed events. I have now served on the executive team for two years and learned so much about myself in the process.
There are times when things are hard and you don't feel appreciated for the work you are putting in, but then a sister comes along and reminds you of how thankful she is for you. Then another sister tells you that you are her hero. The chapter finds ways to recognize your work to ensure you feel appreciated and purposeful.
One of my favorite memories was when a group of us went out to dinner and we each said one internal characteristic we loved about each other and one external characteristic we loved about each other. Certain words stuck with me like, inspirational and bright and sincere. Realizing the potential my sisters see within me that I didn't initially see in myself lit a spark in me. 
So you want to know the truth about sororities? They are absolutely worth it.