http://www.oweek.ca/home/2016-applications/
My 10 Favourite Things About Western
It's absolutely crazy that my first year at Western University is coming to an end; it feels like just yesterday I was cheering on UC Hill during O-Week. Although I have had my ups and downs during this transition from high school to university, I wanted to share the ten things that has made my first year at Western such an enjoyable experience.
1. O-Week
From One Love to O-Serves Day, O-Week was an incredible time for me because there was so much excitement and so many fun events to get involved in all week long. It also gave me the chance to make some great friends from my floor, my building and my faculty. As a resident of Saugeen, a residence of 1200 people, nothing was more fun than rallying and cheering a thousand times louder than all of the other residences. Even though I was initially nervous about going to school out of province, O-Week was an absolute blast that really helped me smoothly transition into university.
2. My mind-blowing program
As a Media, Information and Technoculture major, I wasn't entirely sure what I was expecting from my program, other than a career in probably marketing or journalism after graduation However, I am shocked as to how my program has entirely changed my perspective on the world. How, you ask? Well, let's just say that my perspective on everything from food production to Disney movies has become rather critical.  
3. The Spoke
Okay, do not judge me, but in first semester I only went to the Spoke a couple times because I thought it was overrated. I just remember thinking how it was so dark and loud and that it wasn't worth standing in a 20-minute line just for a bagel. Once I got into second semester my friend introduced me to the best chicken fingers ever as well as the CLT sandwich—I felt like I died and went to heaven. Seriously, if you haven't tried them yet, you are missing out. So now, whether it's the bagel line or the hot food line, I will happily wait because the food is completely worth it.   
4. Fun ways to get fit  
Although working out is really beneficial to both your mental and physical health, it can also be hard and time-consuming. I love how the Rec. Centre offers fun and low-commitment ways to exercise such as intramural sports teams and various classes like Zumba and kickboxing.
5. Never having to leave the Western bubble
Even though London is a beautiful city with lots to do, it was really nice to be able to stay in the Western bubble with all the resources I needed at my fingertips. As the campus has a movie theatre, a grocery store, a pharmacy, and even a hair salon, there is never really a need to leave the bubble.
6. So many cool opportunities to get involved with
With clubs, sports, residence leadership programs, and media production opportunities on campus, I am shocked by the amount of incredible ways to get involved at Western. This year alone I had the chance to write for Her Campus, volunteer at Western's radio station, be a member of stage crew for Theatre Western, and join incredible clubs like Active Minds. Whatever you're interested in or passionate about, there's definitely something at Western for you.
7. School spirit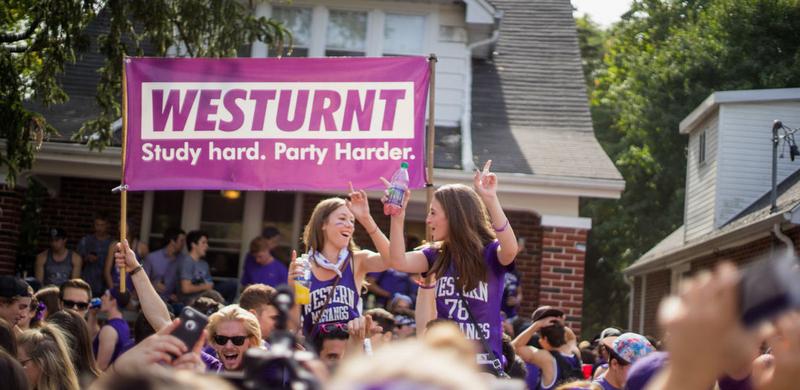 I went to a high school where school spirit was pretty limited, so attending Western was a huge adjustment—in a good way. After attending football games and FOCO, among other events, it's so clear that Western has lots of purple pride and school spirit. After buying a purple Western hoodie and seeing everyone else with Western apparel, I really felt like I belonged to a close-knit community.   
8. Mental health resources
After being diagnosed with a mental illness this year, I am forever grateful for the various supportive resources accessible to me on campus. Whether it was one-on-one residence counseling or anxiety support groups, I managed to cope with many stresses and difficulties in my first-year because of the mental health resources provided at Western.
9. Living in residence
Okay, yes, I lived in the so-called "party residence" or "the zoo" where fire alarms went off at least once or twice a month, but I am so happy that I had the opportunity to live in residence. Aside from being really close to my classes, residence allowed me to participate in one-of-a-kind opportunities including fun dances, a paint fight, and even a student cooking competition. Residence also allowed me to form strong connections with my soph, my don, my roommate, my floormates, and my friends from other floors.  
10. Incredible friendships
If I had not attended Western, I wouldn't have made the same incredible friendships and unforgettable memories as I would have elsewhere. During all of O-Week, people kept telling us that the people you met this week just might be your friends for life, and I remember thinking, "Mmmhmm, sure they will." In actuality, some of my closest friends at Western are people I met on the first couple days of O-Week. Whether we go out to parties, sing and dance at concerts, play board games, watch movies, have study groups, or just stay up late chatting, I am so happy for the unforgettable memories I have made with these lovely people.   
Although my first year of university was like a roller coaster ride, an experience with many amazing ups and hard downs, these 10 things just show how much I love Western and how grateful I am that I chose Western for university. Western has allowed me to grow so much as I have experienced so many incredible opportunities that no other university could ever provide (sorry Queens haha). If these are the incredible experiences and memories I have made in my first year alone, I cannot wait to see what the next three years at Western have to offer.    
Related articles:
Want more HCW? Check us out on social media!