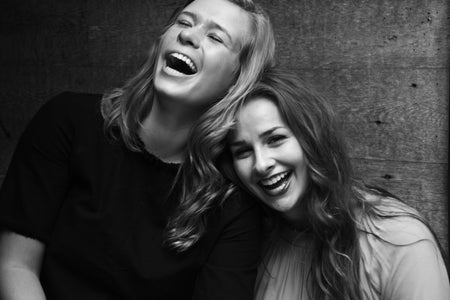 Anna Thetard / Her Campus
Dear Amanda,
My family and I moved into my childhood home when I was only 2 weeks old. My family was rushing to move all of our belongings in because I was an early surprise, being premature by 5 weeks. They were rushing around, trying to move boxes into the new house, still uncertain of what neighbors they were going to have next door. To their pleasant and happy surprise, one of the families was the Woll family.  After conversations introducing one another, my mom was thrilled to hear that the Woll's were expecting a girl in November. With a hopeful response, both families said, "maybe they'll be friends!"
From that introduction forward, the families in the neighborhood held neighborhood parties from summer BBQs, first communion, graduation, and New Year's parties. New Year's held the infamous, annual pudding contest where we raced with hands behind our backs to see who could eat their pudding and whipped cream the fastest.
Those parties turned into playdates.
All of those playdates turned into sleepovers over sugary drinks of "HUGS" and pretzels while playing Webkinz on the family computer, which was the size of the entirety of the desk is sat on. We would play pretend we were teachers in the classroom with the teddy bears and baby dolls as our students. Then at night, we would throw fake concerts where we forced our parents to be our live studio audience. We acted like we were the best performers they had ever seen. In between performances, we played on the Woll's old Nintendo System that had the original Mario Brothers game where our greatest stress was vigorously looking for hidden tunnels and coins. Nights of Nintendo and poorly sung High School Musical performances turned into hangouts at the local mall on a Friday night (if our moms could coordinate a carpool, of course). We had well-needed gossip sessions treading around the Willow Grove Mall to talk about what boy in our classes had the better "hair swoop" and flat-brimmed baseball hats. The texts brought up on our razor phones to ask one another, "The question he answered in our 20 questions game seems like he's flirting with me, he's totally into me."
That slowly transitioned into practicing the tests for getting our permits and PSATS to the panic of getting our licenses and SATS/ACTS scores back. After one afternoon catching up, we both accidentally found out that we both applied to the same job to work after school, and so we became coworkers, as well. We would work short shifts and bring back massive amounts of food from the dining room to have hangouts on Sunday afternoons while doing vocab homework for the big vocab tests during the week. We would plan our and our friends' schedules to all be working specifically on Wednesday nights so that we can go to "Wing Night" at PALS and play hostage around the count. We did this until we found out how much that ate up our gas, then we decided hangouts and frozen yogurt worked out too. These days led to constant screenshots about boys we knew, hoping for an underlying love to come out of it. To sitting in each other's rooms, crying over different boys we let consume too much of our time, being left empty and heartbroken in return.
Following that led to our different conversations about what career path we wanted to take and what we wanted to gain for ourselves for life after high school. We both went to our junior and senior prom pictures to be the designed photographer on our iPhones and my camera. We stood in each other's driveway after packing our lives into tubs of boxes heading to our first year of college, crying in each other's arms wondering what life would mean not looking out the window to see if the other was home to hangout. Fast forward to today, planning trips during the summer, whether it be concerts, beaches, or parks, to summarize the major events that occurred within several months at college.
Amanda, you have been such a huge part of my childhood. We have grown, cried, fought, laughed, danced, sung, and led our lives together. You were my first call on the home phone to see if you were home for a playdate. You have always been and will always be my first call to have a long drive around Bucks County and have "heart-to-heart" conversations in one of our cars till 2 am during nights after we get off our shifts at work.
You will always be a part of the Shannon family. I really don't know what I would do if I didn't have you along with me on my journey through the chaos of life.
You give everyone around you so much light, positivity, love, nourishment, and pureness. It is such a natural way of being for you and I admire you every day for how much love you give, even when it isn't always returned back to you. You have so much talent, grace, intelligence, and ambition to pour out into this universe and I cannot wait to see how many amazing things you will do for this world when you go out into this world after schooling. Never dull your light and keep that drive within you. The world is a much better place to live in with you in it.
To the best friend, sister, and family I met when we both moved into the neighborhood, thank you for being in my life. I love you so much and have the best birthday ever imagined. You deserve this.
Love,
Katie