The winter can be especially hard on your skin, your skin can get dry, itchy, and cracked. No one wants that so here are some affordable products that will keep your skin moisturized, clean and comfortable. My skincare routine always fluctuates based on the season. I have combination skin generally but when the tempter drops, and skin can defiantly feel it. I get so dried out and itchy. These are some products that I have found to be extremely effective. If you have specific concerns or issues with your skin be sure to consult a dermatologist. All of these products I am listing can be purchased on Amazon or at any drug store.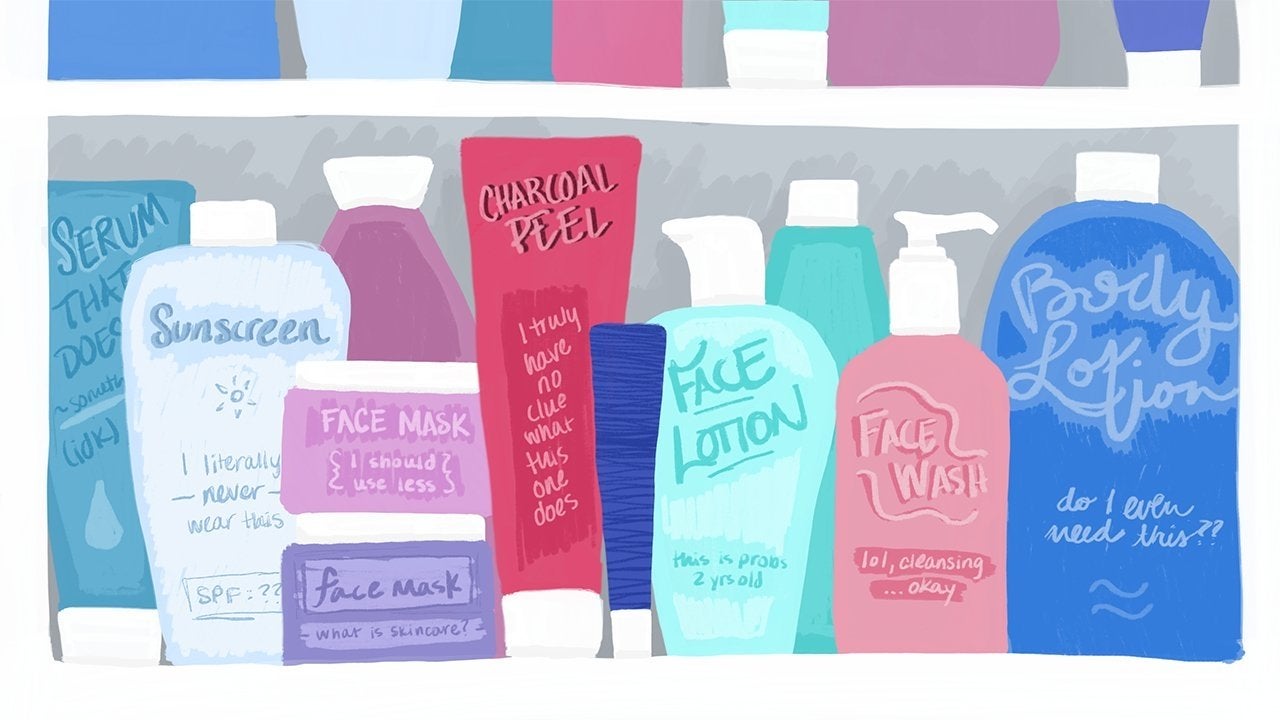 Face Wash

Let's start at the base of any skincare, cleansers. All healthy skin begins with washing out all the dirt, oil, and makeup accumulated over the day. With temperatures dropping, you do not want a face wash that strips all of the natural oils and moistures out of your skin. This is why face wash for sensitive skin is always a good option

CeraVe Hydrating Face Wash ($14.64)

CeraVe Hydrating Face Wash this is an excellent cleanser for sensitive skin; it takes perfect care of dry skin with three hydrating moisturizers. CeraVe contains no added fragrance, so you can be sure it will not irritate your skin.

Cetaphil Gentle Skin Cleanser ($11.55)

is my favorite cleanser. I feel very clean and not dried out after I use it. There's no fragrance, so it is safe for sensitive skin. I also love the size of this bottle; it is 20 oz, and you only use a few pumps every time you wash your face so that it will last you a long time.

Olay Sensitive Facial Cleanser with Hungarian Water Essence ($8.90)

Olay Sensitive Facial Cleanser is creamy and will leave your skin feeling very comfortable and not tight at all. The formula contains extracts of cucumber and aloe, which will leave your skin feeling refreshed and soft.

Facial Mists

I love facial mists. They provide a tremendous little spritz of freshness after washing your face or whenever you need a little extra refresher during the day.

Mario Badescu Facial Spray (3 pack $21.00)

Mario Badescu Facial Spray comes in many different scents. Each bottle is filled with a beautifully colored liquid that is full of fifteen different kinds of minerals. The mist rebalances your PH balance in your skin. It also protects and strengthens your skin. I prefer to get the three pack because I like to alternate which kind I use each night.

Thayer's Facial Mist Toner ($10.95)

Thayer's Facial Mist Toner is hydrating and smells fantastic. You also don't have to worry about your skin drying out with the alcohol-free formula. This product also comes in many different natural scents like Rose Petal, Coconut Water, Cucumber, Lavender, and Unscented.

Moisturizers

This is probably the most crucial step in your winter skincare routine. Moisturizers can be tricky because you want to feel hydrated and comfortable but not oily. Here are a few moisturizers I found to be very effective in keeping that moisture in without leaving an oily residue.

CeraVe Moisturizing Cream ($16.08)

CeraVe Moisturizing Cream is always a go-to for dry, sensitive skin. It has almost 27,000 reviews on Amazon, the overwhelming majority of them are raving about how the product saved their skin. The soothing, gentle formula will leave you feeling clean and protected from that crisp, dry air. CeraVe is a great everyday moisturizer for day and night.  

E45 Dermatological Cream ($14.70)

o   E45 Dermatological Cream is excellent for dry skin. I was recommended this by a dermatologist a few years ago. It is a relatively thick formula, so you only need a little dot for your face. I recently started using this again when I had many dry patches around the bottom of my face. I was so nervous that it would make me breakout, but I did not get any acne. My skin was almost flawless. 

La Roche-Posay Toleriane Double Repair Face Moisturizer ($19.99)

La Roche-Posay Toleriane Double Repair Face Moisturizer has an oil-free formula that will leave you feeling hydrated but not sticky. The lightweight texture will make you want to keep applying, but you don't have to. Most people that try this product are instantly hooked, calling it magic in a bottle.