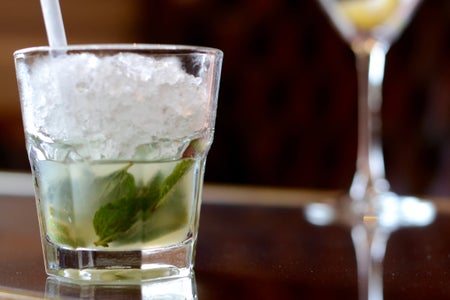 To kick off this mixology series, a friend of mine requested we are starting with Vodka cocktails and mocktails. I'm never one to turn away a demand, so that's where we'll start. There are so many different cocktails you can make with vodka, so this will be part one of the vodka segment.
The first order of business, we'll start with a classic Black Russian:
Add 2oz Vodka and 1oz Kahlua to a mixing glass and stir.

Strain into an old-fashioned glass over fresh ice.
To make it into a White Russian, simply add 1oz heavy cream into the glass and stir together.
Next, let's turn things funky with a 57 T-Bird with Hawaiian Plates:
(Yes, that is the actual name.)
Add 1oz of the following: Grand Marnier (orange liqueur), Southern Comfort (peach liqueur), Amaretto (almond liqueur), vodka, pineapple juice, cranberry juice, and a splash of Grenadine into a mixing glass.

Shake with ice and strain into chilled shot glasses.
Let's take things back with two classic mocktails.
For a Shirley Temple:
Fill a Collins glass with ice and pour over .5oz Grenadine and .25oz Lime juice.

Top with Ginger Ale (or Sprite) and gentle stir.

Garnish with maraschino cherries and serve with a straw. (Typically, you'd use Luxardo mar. cherries, but you can use any kind.)
(To make it a real cocktail, add 1.5oz Vodka or Rum. Known as a "Dirty Shirley")
For a Roy Rogers:
Follow the above recipe, except don't add lime juice and replace ginger ale with Coca Cola.

Garnish with a maraschino cherry and a lemon peel.

Enjoy!
(To make this one a real cocktail, add 1.5oz Vodka, Dark Rum or Bourbon.)
Let's go head north to New York and have a Long Island Iced Tea:
To a Collins glass, add .75oz of the following to the glass: Vodka, White rum, Silver tequila, Gin, Triple sec, Simple syrup, and fresh Lemon juice.

Top it off with Coca-cola and stir briefly.

Garnish with a lemon wedge and serve with a straw.
If you want something truly screwed, try a Kitchen Sink Martini:
Add to a shaker:
.375oz sour apple schnapps and lime juice

.75oz Raspberry vodka, Apple vodka, Blueberry vodka, Lemon vodka, and Cointreau (orange liqueur)

1 splash Cranberry juice and Lemonade
Shake with ice and strain into a cocktail glass. 

Optionally, you can rim the glass with sugar beforehand to add a sweet factor and drop a cherry into it.
 Now, let's travel west to taste a Blue Hawaii:
.5oz Blue curacao

.72 oz Vodka and Light rum

1oz Sweet-and-sour mix

3oz Pineapple juice
Add all ingredients into a shaker and shake with ice until well-chilled.

Strain into a Hurricane glass over crushed ice and garnish with a pineapple wedge and a cocktail umbrella.
For our last cocktail, we will be doing a Classic Bloody Mary:
(There're multiple renditions to this famous hangover cure; however, we won't be exploring those today.)
1 Lemon and Lime wedge

2 oz Vodka

4 oz Tomato juice

2 dashes Tabasco sauce

2 tsp Prepared horseradish

2 dashes Worcestershire sauce

1 pinch Celery salt

1 pinch Ground black pepper

1 pinch smoked paprika
Rim a Highball glass with celery salt using lemon or lime juice from a wedge.

Squeeze the remaining juice from the wedge into a shaker and drop it in.

Add all the ingredients into the shaker with ice and shake.

Strain over ice into the rimmed glass.

Garnish with a sprig of parsley, 2 speared olives, a lime wedge, and a celery stalk.
I hope this gives you a taste of just how tasty vodka can really be.