Unity in the Streets and Hope for the Future
There's no doubt that the whole country and practically the whole world felt some intense emotions during what should've been called "election week." I've been alive for multiple elections now, but this was the first one I was able to exercise my given right to vote. However, this election was unlike any we have seen before. In a sad and scary way, it will be deemed as one of the most historic times in our country's history. Major cities were boarding up their businesses and stores were giving their employees time off. BIPOC were advising their family members to not go anywhere alone leading up to the election and to constantly be aware of their surroundings even after results were given. Americans were buying in bulk again preparing for the worst and honestly, who can blame them. The outcome of this election evidently determines a lot for the future - whether our country breaks at the seams or finally has an opportunity to thrive again.
For at least the past 4 years I and many others have felt too ashamed to display any bit patriotism for our country. We are the laughingstock of the world – a nation once respected by all is now divided and the biggest joke we've ever seen. The American Flag somehow became correlated with a hate symbol and anyone who flew it proudly was seen to be in agreeance with it and all the injustice in America, causing an even bigger divide not just in our country, but even in personal relationships with those close to us. The phrase "We have never been more divided," is being repeated like a broken record and if we're being honest with ourselves, it's always been like this. The only difference now was that those that currently hold power encourage it more openly than anyone else before them. They feed off of the American people turning against each other and they love watching us tear each other apart. Unfortunately, we just go along with it, idolizing and defending officials that don't and won't ever even know our first names. We are forgetting that our neighbor is not the enemy here…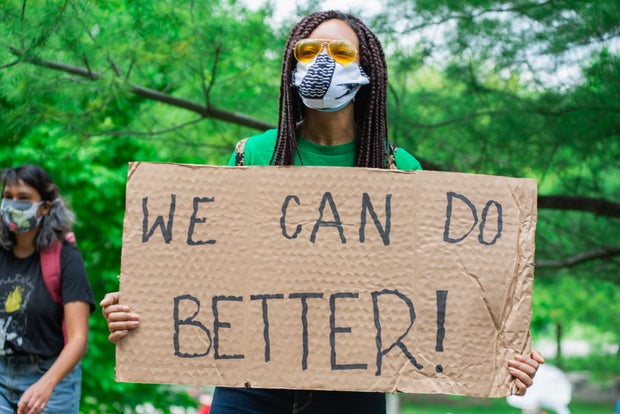 Photo by Jason Hargrove from Flickr
For the first time in what feels like eternity, I feel hopeful for the future. When President Elect Biden was announced it felt like the world let out the biggest sigh of relief. I remember waking up November 7th at 9:44 AM and routinely looking at the electoral map like I had done every day for the last 3 days. I won't ever forget this day and the time, because it was when I realized just how scared I had been. I thought I was handling the election well until it was announced that Joe Biden had reached 270 electoral votes and then I broke down in tears – we did it. After what had been one of the most stressful weeks, we were finally able to breathe. I remember hugging my parents and feeling grateful to have them in the same room as me because it was an opportunity that many don't have today. I felt immense pride in the American people because the vote signified that we want change and that we know we are capable of it. We believe in the American Dream and all those that are part of it. We voted for the Latinx Community, for DACA recipients, for BIPOC, for our LGBTQ+ brothers and sisters, and for women's rights. 
The unity and patriotism I saw throughout the day of November 7th, 2020 was something straight out of a movie. Parades, spontaneous dance parties and loud chants were taking place all over the world and for the first time in a long time I was proud to say I'm an American. We came together and held one another, dried each other's tears and laughed like old friends. For a split second we were displaying what it truly means to be an American: loving your neighbor and standing as one. The feelings of hope, pride and eagerness were awoken in me and these are the feelings I will be chasing for the rest of my life. We still have substantial work to do as Americans, but I am more hopeful now than ever that The United States of America will have an opportunity to live up to their name.