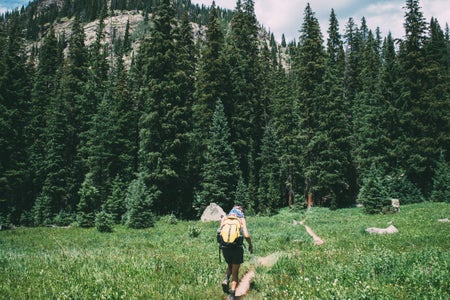 Cameron Smith / Her Campus
Lessons from Each National Park I've Visited
In pre-pandemic life, my central pivotal point for traveling around the United States was the ultimate goal to visit all 62 national parks at least once in my life. At 19 years old, my current standing is at 11, but hey, it's a nice start to my bumper sticker collection. As the boredom of a new lockdown in Washington state has already put more new free time on my hands than I really know what to do with, I've been offered a little bit of peace by reflecting on my old trips, and what each unique landscape has taught me personally. In all 11, from Washington to Colorado to Hawaii, I've learned something a little different from each and every one of them.
1. North Cascades National Park, Washington
There probably isn't a landscape that I value more in the country, and perhaps the world, as grand as it is and how little I've truly seen, than North Cascades National Park. Spending a considerable amount of time there with my family every summer since I was 8 or 9 years old, it never occurred to me it gets far fewer visitors than Washington State's other claims to fame of Mount Rainier and Olympic National Park. As I know now that I've been incredibly lucky to experience its snowy peaks and emerald green lakes relatively uninterrupted, I realize, yes, the popular national parks and monuments on America's postcards are wonderful, but there is something to be said about untouched wilderness like this, and they might be the country's greatest kept secret. I've learned that one's favorite place doesn't have to be either widely popular, or associated with any particular positive memory, to be special, and that's what I love about it. 
2. Grand Teton National Park, Wyoming 
This was the first national park that I had ever gone to where I put in more work than ever before to explore these acres on a deeper, more personal level, and I still look at that as one of the best experiences of my life. On this trip, my dad and I hiked 13 miles to an alpine lake in the Tetons, surrounded by the late September fall colors, and as I kept climbing higher and higher into what seemed like a wonderland that couldn't possibly exist on a planet outside of my imagination. It was here that I understood, the first time in my young adulthood, the remarkable reward that could come from putting in just a couple extra miles of effort to engage with the world around me and discover a deeper meaning out of it. I was virtually alone in the most beautiful place I've ever been, and I think that feeling of true independence from that accomplishment was something reassured me that I was going to be okay in the midst of some difficult changes life threw at me in the months after.
3. Redwood National and State Parks, California
This trip was the complete opposite of my experience in the Grand Tetons about 6 months earlier—it was defined instead by seeing the powerful and mesmerizing Redwoods half from the sunroof of a rental car, and half getting soaked from a crisp, cooling rain that painted everything the unforgettable, vivid greens and auburns. You can picture the Redwoods in your head from secondhand stories or Google images, but there's no way to describe to someone who's never been how captivating they are in person. I know it sounds somewhat ridiculous when I say this, but I really did learn something from these trees—compared to everything in the world, the galaxy, and the unexplored universe, our problems that are currently on hand are insignificant in the grand scheme of time. Whenever the pressure of a perceived setback weighs down on me, like a bad grade or an argument with a friend, I like to ground myself in this experience in the Redwoods, just for a little reminder that things have a way of working themselves out in time.