I Binge-Watched 'Grown-ish' & You Should Too
Freeform's Grown-ish, is a new spinoff show from the hit series Black-ish. Personally, I never watched Black-ish, but when I was searching around for a new show to dive into and binge in bed between classes, I came across Grown-ish. Before I knew it, I was watching episodes back to back and fell absolutely in love with this 20-minute sitcom show about a young woman beginning college in Los Angeles. This show truly checks all the boxes... it's hilarious, pulls at the heartstrings at times, and is surprisingly relatable. Here are a few reasons why I think Grown-ish could be your next favorite tv show. 
Reason #1: The main character is everything 
If you have already seen Black-ish, then you must be familiar with Zoey Johnson, played by Yara Shahidi, and already know she is witty, stunning, and has huge dreams. But, if you are like me and had no clue who Zoey was, all you need to know is that she is an 18-year-old firecracker, wannabe designer, who is ready to make an impact on the people and world around her. Throughout each episode, Zoey narrates her inner emotions to the audience, which not only keeps you up to date and what is happening but gives you an interesting and legit perspective on what it's like to be a young adult in our society right now. From the feelings of fear, guilt, love, and more she expresses in the show to the advice she gives her best friends, Yara's character Zoey makes you feel like its totally ok to not know what you're doing and shows you that it all works out.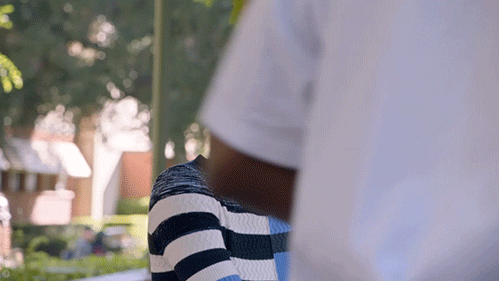 Reason #2: The fashion game 
 Zoey's dream of being a stylist/designer in this show allows her to wear some of the most creative and inspiring outfits I have ever seen on television. Seriously—I cannot understand how she looks so incredible going to class. And it's not just the main character that is always the best dressed, the other characters in the show also wear some amazing fits that I'm dying to recreate. If you are needing some motivation to style up those leggings, this is the show for you. 
Reason #3: The soundtrack 
This show has some of the best background music I have ever heard. From old Drake to new Khalid, this show features the best of R&B, hip hop, pop, and more. After I finished season 1, I found a playlist someone made of the songs played in the show and I cannot get enough. Not kidding—I'm listening to it as I write this. 
Reason #4: The content 
The Grown-ish writers really knew what they were doing in this show. Topics in this series range from LGBTQ + issues, racial inequality, addictions, stress, depression, and more. The characters in this show talk about everything that young adults are faced with these days and not only give a great and open perspective on it but speak on how to address and deal with these problems and subjects. While Grown-ish is fun and lighthearted, it really does discuss the real things people our age are dealing it, with no stigma attached. 
If you still aren't convinced that Grown-ish is the show for you, here is a sneak peek of an episode from season 1! 
Now, that I've got you hooked, stream the first episode of Freeform's Grown-ish on Hulu now, I promise you will not be let down.