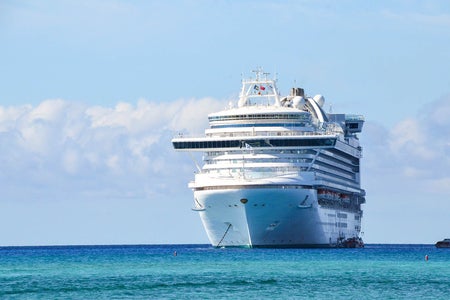 Five Things to Know About a Cruise Vacation
We all can remember weird obsessions that we used to have when we were kids: mine, personally, was the huge excitement to go on a vacation on a cruise ship one day. I think part of this was fueled by my mom, who worked for Princess Cruises in the 1990s; she told me glamorous stories about her excursions to see Alaskan glaciers, Caribbean sunsets, and the mystical Panama Canal that she and my dad went on for less than a dime. Because of this, whenever spring break or summer time would roll around, I'd do anything in my ten-year-old power to advocate for a cruise somewhere—I even went the unnecessary extra mile to hang up flyers promoting different cruise ships around the house, including which pools they had and their future travel dates, whatever was first to grab my parents' attention...and hopefully their wallets. 
After my first quarter of college, my dad and I decided to spend the last week of December abroad on a Mexican Riviera cruise (this was, quite luckily, a few weeks shy of when the pandemic really took off). The experience, although better late than never, was new for me as an eighteen-year-old, and as vaccination rates in the U.S. speed up, thousands of Americans with bottled quarantine energy are antsy to flee the country to finally get back in vacation mode, many considering by ship. If you have some of this pent-up energy too, consider what I learned from my very first cruise. 
1. You'll probably need a nice outfit. Like, the nicest one you have. 
If you're unaware of how a traditional trip on a major cruise line works, for major meals and especially for days at sea, you'll likely be dining at a formal restaurant onboard to fulfill your appetite. What I didn't know, however, is that many cruise lines have a dress code for every night, so for Christmas night, the attire on our trip was posted as "formal." My dad had warned me to pack a nice outfit, but when I noticed men in ironed tuxes and women practically in ballgowns, I felt massively underdressed in my "nice" outfit of wedge heels, a long skirt, and a tank top. It's better to be safe than sorry—be sure to pack a nice dress or jumpsuit with you, so you don't run the risk of stepping out unprepared as I did. It's actually a good excuse to get all fancy.
2. If you can afford it, try to reserve a room with a balcony or at least a window.
There are rooms on a cruise ship that are sometimes referred to as "interior" rooms, and because they lack a window to the outside world, they can feel like you're living in an alternate reality. For my mom, as she had always warned me from her cruising memories, this brought on unbearable seasickness after staying in one for more than a couple hours. If you're prone to getting seasick, and if you can afford to spend an extra couple hundred bucks more, reserving a room with a view to the outside world is money well-spent. On a cruise in general, and especially while COVID is still a lurking fear for many people, time spent in your room is kind of a given, so you might as well make the best of it if you can. 
3. If you want more time to really explore a destination, a cruise may not be ideal.
This one is kind of obvious, but a huge draw to cruises for people is the ability to mark off many long-awaited places on the map in one trip, this being true for us when stopping in Cabo San Lucas first, then Mazatlán, and finally Puerto Vallarta on Christmas. This was a great experience for me to see the second and third destinations for the first time, but since I absolutely loved seeing Mazatlán on Christmas Eve, it was a little disappointing having to wave goodbye and shout "Feliz Navidad!" from our balcony only hours after we had first arrived. If you're willing to see as much as possible with a little bit of time allotted for each destination, a cruise is the way to go. However, if you have your heart set on one port beforehand and you want the time to see all the wonders it has to offer, a direct flight there for an extended period of time might be more worthwhile. 
4. Be prepared for the days at sea. 
After leaving our final port of Puerto Vallarta, we had two full days completely on the boat before we docked again in Los Angeles for our flight home. I'll admit that two days at sea doesn't sound that bad, but trust me, it's a lot longer than you think. Cruise ships have plenty of things to do as part of their draw, but if you're like my Dad and me, where elaborate theatre shows or swimming in an infinity pool with 100 other people to pass the time isn't really your groove, these days at sea can be grueling. Coupled with inevitable crowds of people on pretty much every deck of a ship in any major cruise line, life can get a little boring if you're unable to entertain yourself. Our final two days onboard were spent reading books and watching TV on a loop, waiting for the minutes to tick by, so make sure you formulate a better plan than we did, for your own sake.
5. Consider your point of departure or arrival as a place to explore, too. 
My dad and I finally arrived in LA at 8 am after a week at sea, exhausted and ready to head home, but our flight back to Seattle wasn't for another twelve hours. Although the destinations of the cruise were fun to explore, of course, don't forget that you can add a little time before or after your official cruise to explore before you finally unpack your bags. With so much time to kill, we spent a sunny Saturday walking on the Venice Beach boardwalk, journeying around Hollywood and Malibu, and getting In-n-Out as our rite of passage. Of course, the actual cruise was the main event, but a significant highlight of my long-awaited childhood dream was actually the fun we had in our spare time after we stepped off the boat.