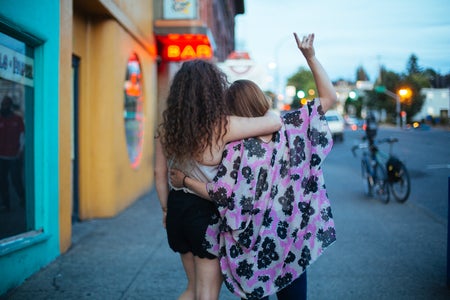 Breanna Coon / Her Campus
5 Things That UW Has Taught Me About Friendships in College
I have only been at UW for two quarters, and I have learned an unfathomable amount. Seriously, I feel like I've aged about 80 years in the best way possible. I have already gained so much from UW's spectacular academics, yet I have learned three times as much about myself and life in general. With that said, I think one of the biggest takeaways from my time at college so far has been how I view friendships. And guess what? It's your lucky day! I'm going to pass off my unparalleled wisdom on to YOU!
Something that I realized within the first week of my arrival at the UW is that it's a lot harder to make friends if you don't make an effort to reach out to others. You might not be a "people person." You might be the opposite – a self-proclaimed introvert – and there is absolutely nothing wrong with that! However, just remember that expecting others to approach you as a way of attaining friendships may not be the most effective method. Try giving yourself a goal, such as striking up a conversation with three new people in your classes! So what if you don't click with them? Additionally, if you live in one of UW's residence halls, consider leaving your door open once in a while! You never know when someone might pop in and say hello.
Make sure the friends that you make are bringing out the best in you and helping you towards your goals in some way. For me, surrounding myself with other motivated people who recognize a healthy balance between work and play has greatly strengthened the quality of my experiences here at UW. If you're extremely passionate about your GPA, try meeting some good study buddies. Do you have a goal of evading that dreaded Freshman Fifteen? Spend time with someone to help hold you accountable to going to the gym. Want to make sure that you're not a Netflix-watching hermit this quarter? Try meeting someone spontaneous who can help you branch out! However, don't forget to give back and share your own best qualities with your new friend, as well!
You might lose a few friends back home, and that's okay. It's a part of life; you will change as a person, and so will everyone else. It is normal to outgrow others, and this is something that is absolutely essential to your overall growth as an individual! Despite severed ties, you're going to be meeting so many new wonderful people that will become a part of your next adventure!
Don't forget to make an effort to keep in touch with your friends back home, though! Yes, we've all been through countless midterms, finals, and all of the other overwhelming stuff that's associated with adulting *shivers*. Remember that reaching out to a friend back home to let them know you're thinking of them takes five seconds, and it will mean so much to them!
Lastly, don't put a ton of pressure on yourself to find friends. Honestly, I've found that the best people in my life came around when I didn't have some ridiculous deadline in my head regarding at what point I should have friends in college. Please don't be hard on yourself if you haven't found your group yet. Enjoy everything that you have going for you now, try to strike up a conversation with someone, and things will eventually fall into place. After all, there are about 30,000 undergraduates at the UW, which means that there are plenty of great Dawgs waiting to meet you, too!