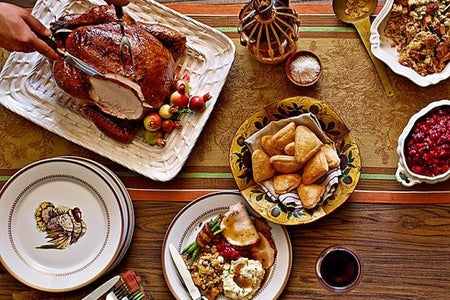 Tenderize Your Heart & Marinate Away: Ways to Celebrate This Thanksgiving Day!
Thanksgiving 2020 has been touted as a holiday like no other. As the chairs and place settings at the table remain fewer and Black Friday plans seem to have vanquished, the world is harkening us in a new direction.
A call for reflection, empathy, and perspective can bridge the divide. How do we stay apart when we are wired as humans to be together? Here are a few humble holiday suggestions that are homemade and seasoned with love:
Request a special recipe from loved ones and uncover the mystery of its significance. Solicit quotes revealing cherished holiday memories or words of gratitude to sprinkle some sentimentality. Ask the little sweet potatoes (the kids' table) to illustrate with their autumn-inspired masterpieces. Copy, collate, and treasure a Family Favorite Cookbook for years to come.
Deliver simple treats or thoughtful notes to friends and neighbors marooned in their dorms or apartments craving a warm hug or a taste of grandma's pumpkin pie perched in an oven halfway across the country. And don't forget to reach out to the elderly...their isolation is unparalleled.
If cooped up watching the football games solo, organize a contest of "Squares" amongst friends. Winner buys the next round of Insomnia Cookies. If touchdowns don't conjure memories of holiday cheer, tune into the 94th annual Macy's Thanksgiving Day Parade, boasting ensembles from "Hamilton," "Mean Girls," Pentatonix, and more. 
Support the St. Louis community through Give Thanks Give Back, a student-run organization at WashU that partners with the St. Louis Post Dispatch's 100 Neediest Cases and United Way. Sponsor an individual or join as a group to brighten the holidays for those who need your sunshine. 
Reflect upon the military, first responders, healthcare providers, and essential workers who are routinely absent from the Thanksgiving table--not just during a pandemic. Consider a donation to the Gary Sinise Foundation or a nonprofit organization of your choice. Even expressing a well-deserved thank you may warm hearts and lighten steps.
Have a Happy "socially distanced" but "emotionally connected" Thanksgiving!