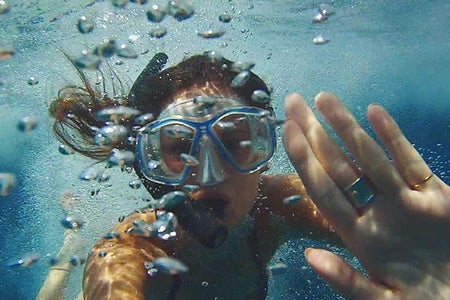 Meredith Kress / Her Campus
Small Brands to Shop for Summer Swimwear
Over the past year, many of us have been making a greater effort to shop from small businesses (perhaps one of the silver linings of the COVID-19 pandemic and its effects upon society). Aside from the obvious benefits of helping out an individual business owner who is putting their heart and soul into producing a product, shopping small often gives you the opportunity to find unique items that you will fall in love with! There are tons of small swimwear brands that you can shop online to update your summer wardrobe with cute, flattering, and affordable swimsuits to fit your perfect style. Check out some of these shops and try a new style or color palette this summer!
LDLA
This brand sells simple designs in solid colors that will be your new go-to basics this summer. Something that makes LDLA unique is their elimination of number sizing, instead of using the names of mythological goddesses (ok seriously, how cool is that!?)
gNASH Swim
gNASH is a small business based in Australia that uses super bright fabrics to make their swimsuits. With a range of two-piece and one-piece styles, the neon greens and vivid purples will definitely get you in the summer spirit!
Kulani kinis
This site carries literally every design you could imagine, from florals to animal prints and stripes. You can even get a scrunchie or headband that matches your bikini and perfect all your summer swimsuit pics!
Riot Swim
If you are into more minimalist designs, try Riot Swim. Many of their designs include trendy ribbed detailing or adjustable waistbands so you can have more or less coverage according to your own preference.
dippin daisys
This California-based brand is all about sustainability, from printing their designs rather than dying them to using eco-friendly packaging. Supporting brands like dippin daisys encourages other brands to adopt these practices as well, so definitely take a look at their Instagram page or website (we PROMISE you will find a suit you love!)