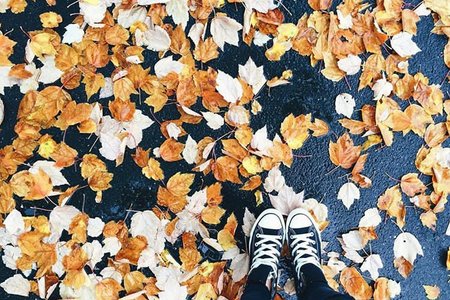 I don't know about you but this rain is killing me. It makes it impossible to get out of bed in the morning and it puts me in a terrible mood the moment I step outside. The rain is making it very difficult to remain motivated during these last weeks before spring break. 
Here are some solutions to hopefully get you in a slightly brighter mood despite all of the dreariness.
Sit in bed and watch a movie or show and ignore the weather. If you don't go outside the weather can't affect you. This is my best solution thus far because staying in bed solves everything in my opinion, however, it is not the most practical. 
Buy a new spring wardrobe. Spring is (hopefully) upon us and the sun will be shining and so you're going to need those sandals and flowy dresses pretty soon. So why not buy some outfits now so they are all ready for when that spring weather is upon us. 
Buy a cute rain accessory. I personally have a kate spade umbrella that is super cute and makes the rain just slightly less awful. Get a yellow umbrella or jacket or rain boots, anything that will brighten your day just a little bit, even if it is in preparation for the rain. 
Plan your spring break adventures. Since we aren't on spring break yet, why not look forward to what you will be doing during spring break. Hopefully enjoying the sun somewhere and ignoring the impending doom of whatever assignment your professors have given you to accomplish during our supposed "break" from school. 
Jump in a puddle. This is childish and you might immediately regret it upon getting water all over yourself and possibly others but, why not? Embrace your inner child and jump in the puddle, let yourself have some fun during this rainy time. 
I just want the rain to end and sunshine to come back. I'm pale and I'm cold. But hopefully the sun is just around the corner and we will be thankful for the rain because it will make everything so green and pretty.