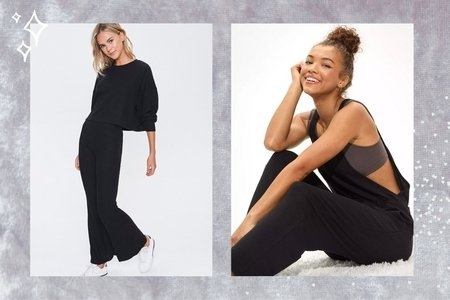 Photo Courtesy of Forever 21 and American Eagle/Canva
Nine Loungewear Sets That Won't Break the Bank
I will admit, I am still coping with, or at the very least trying to make sense of this "new normal." My days are starting to blend together, and the start of school has only increased the likelihood that I confuse a Thursday for a Friday. I no longer walk to class and see friends and familiar faces along the way, I merely click a button and poof! - I'm "there." 
Online classes and pre-recorded lectures do have their advantages, but my motivation to plan my outfits and dress up is essentially lost. That being said, I am not willing to give up quite yet. After all, it is only September, and I've already had numerous days wearing the same sweatshirt for more classes than I am willing to admit. In an effort to stop my sluggishness and to start heading back towards what I'll call "pre-pandemic collegiate casual,"  I've decided to make a compromise. And since I can't imagine putting on a dress or my favorite pair of jeans, my plan to reinvent my wardrobe during this pandemic is through, you guessed it, loungewear.
The start of fall has given me the extra push that I needed to start shopping, searching, and purchasing the latest releases in both comfort and style. These sets are super reasonable for their prices, so no need to feel guilty if you purchase a couple. So here they are, my favorite loungewear sets that will have you looking cute, cozy, and totally trendy this semester!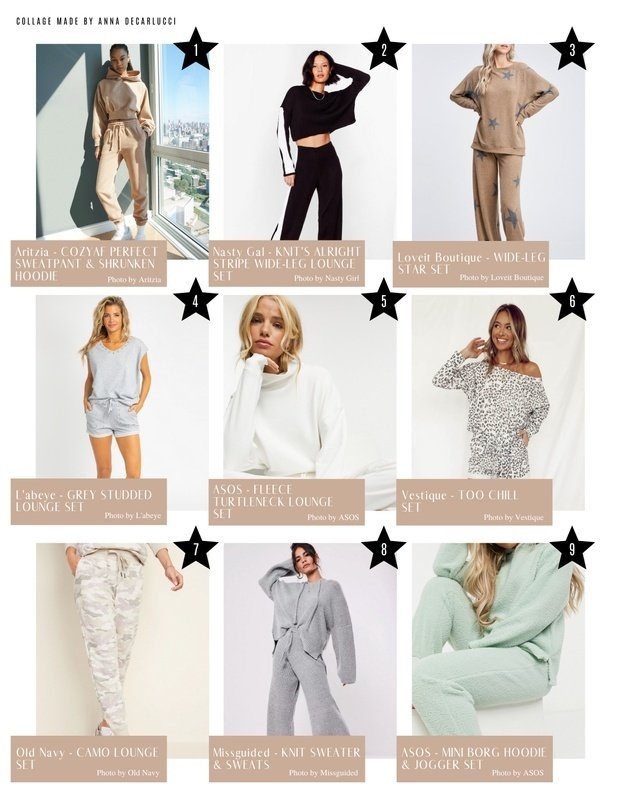 Photos by Aritzia / Nasty Girl / Loveit Boutique / L'ABEYE / ASOS / Vestique / Old Navy / Missguided / ASOS / Design by Anna DeCarlucci
1. Aritzia Mid-Rise Sweats and Shrunken Hoodie 
COZYAF Perfect Sweatpant $60 
 COZYAF Perfect Shrunken Hoodie $70
Aritzia has done it again. This one comes in all sorts of neutral tones perfect for fall and is fleece lined for those chilly days ahead.
2. Nasty Gal Wide-Leg Striped Set
Knit's Alright Stripe Wide-Leg Lounge Set - Originally $73
This one is on sale for $36.50 and you just can't pass that up for its price. The wide-leg definitely dresses this setup, and if you can't get enough of the black, it also comes in gray and cream. To accentuate the look, consider adding some gold accent jewelry and tossing on a cute pair of sneaks for coffee, dinner, or weekly errands. For my petite ladies: this one runs a bit long in the legs so do anticipate getting this hemmed.  
3. Loveit Boutique Wide-Leg Star Set
Camel and Black Star Loungewear Set $58
Stars were all the rage this summer, but who's to say this trend can't continue into the fall? Once I found this set I couldn't resist because it is super reasonable for its price! A bit more casual and loose-fitting, but perfect for a day in bed or lounging around the house.
4. L'abeye Studded Grey Set
Gray Studded Lounge Set $66 
This one is on sale right now for $44, so make sure to check this one out before it's gone! The studs make this set a bit edgier, but the soft gray and loose fit is absolutely adorable. This one is perfect for those unsuspected warmer days this upcoming fall! 
5. ASOS White Turtleneck Set
Lindex Karen Organic Cotton Fleece Turtleneck Lounge Sweat in Off White $40
Lindex Jo Organic Cotton Fleece Sweatpants in Off White $40
The turtleneck makes this set a bit dressier, while the sweats are all for comfort! I can't get enough of ASOS loungewear right now, so aside from this set, go look at their newest releases. 
6. Vestique Cheetah Print Short-Set
Too Chill Top  $30
Too Chill Shorts  $28
Cheetah is a must-have for your fall wardrobe! This short-set is fun and flirty and again, is perfect for those occasional warmer days! 
7. Old Navy Muted Camo Set 
Vintage Crew-Neck Sweatshirt for Woman $30
Mid-Rise Tapered-Leg Jogger Pants for Woman $32
A classic crew-neck top with a funky print! I was a little unsure about this one, but I went ahead and ordered it anyway. Girl, am I glad that I did! The material is super breathable but still nice and warm. The tapered leg is asking for a high-top sneaker to complete the look. Thanks for this one, Old Navy!
8. Missguided Chunky Sweater Set
Premium Grey Co Ord Oversized Hooded Knit Jumper $44
Premium Gray Co Ord Knitted Culotte Trousers $31
This chunky knit lounge set is everything that I imagine fall to be. The wide leg and semi cropped pant allows for a looser fit and the drawstring makes this look a bit more casual but all the more cozy! If you aren't a fan of the flared pant, they have a tapered option on their site as well (click here.) 
9. ASOS Mint Teddy Set
Mini Teddy Hoodie & Sweatpants Set in Mint $42
I saved the best for last. This lounge set might put you to bed the minute you put it on! The teddy material makes this one extra cozy and the price of this set is the best that I've found this season, so do get this one before it sells out! For those of you who want both, this set also comes in pink. ;)