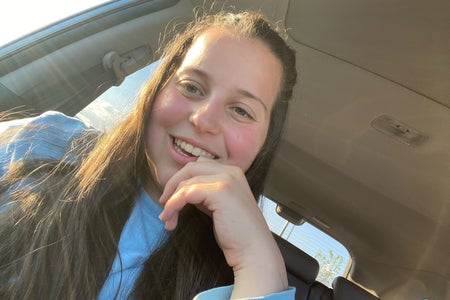 Original photo by Natalie Chew
Natalie Chew on Her Transition from High School to College
Natalie Chew is a freshman from Virginia, and she plans to major in biochemistry and molecular biology as well as a double minor in history and bioethics, medicine and humanities. She is currently the Vice President of the Survivor's Best Friend organization at Wake and a member of club climbing! Natalie reflects on her time at Wake as a freshman. 
Her Campus: What's it like going to college during a global pandemic?
Natalie Chew:  It honestly feels like a "normal" college experience because this is all I have known. Although it is different not being able to socialize with as many people or go to many different classes, it feels almost stranger to think of a day where all classes are in-person and large events are happening.
HC: How has your perspective changed about this whole pandemic, especially experiencing it as a freshman? 
NC: The biggest change in my perspective has been enjoying every moment and not taking it for granted. It is not guaranteed that we will be able to stay on campus until November so that has encouraged me to go out and meet new people even when I am not feeling like it. Additionally, I am grateful that I am attending a school where the majority of people are following the guidelines so we can stay as long as possible. Since I have not experienced college before, I do not feel deprived of any of the "typical experiences," and I do know that I will have plenty of time to experience them when it is safe to do so.
HC: Did you have any challenges with transitioning from high school to college? How did you deal with it?
NC: The thing I struggled most with was homesickness and adjusting to what was expected of me. For homesickness, I called my parents often and reached out to the counseling center. When I was confused or did not do as well as I wanted to on an assignment, I have reached out to my professors for feedback and clarification.
HC: What do you miss most about life at home? 
NC: Definitely my dogs and having different food options.
HC: Favorite spot on campus? Go to place to grab food? 
NC: My favorite spot on campus to study is the sixth-floor balcony of the library. My favorite place to sit is either the swings by Scales or by Wait Chapel. My go-to place to get food is either Chick-fil-a or Zick's.
HC: How did you get involved with Survivor's Best Friend? What has been your favorite part about it? 
NC: I got involved with Survivor's Best Friend over the summer. Since it is a new club at Wake, our president and founder, Julio Garcia, was reaching out to people to gauge interest. I was very interested in it because we work with survivors of sexual assault and domestic abuse to get them the necessary help and provide them with emotional support animals. I knew I wanted to be greatly involved with the club because it is difficult for survivors to cope and heal from their abuse and I wanted to be a part of an organization that aided that in any way possible.