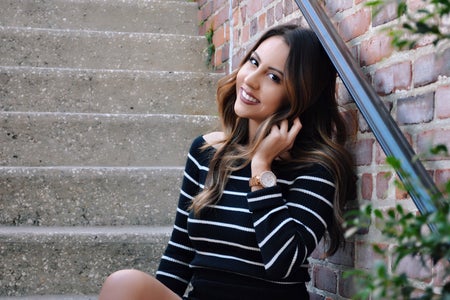 Junior Spotlight: Melissa Navarro
Melissa Navarro is a Junior Accounting major with a minor in Interdisciplinary Writing. Melissa has a passion for business and hopes to work in forensic accounting after graduation. For the past two semesters, Melissa has been working to jumpstart Undergraduate Women in Business at Wake Forest. As the President of the organization, she devotes a lot of time working on its development, creating a strong foundation, and recruiting new members. 
Her Campus: Can you tell me a little bit about how Women in Business started at Wake Forest?
Melissa Navarro: So Women in Business started at Wake at the end of my sophomore year when two seniors had an idea for a club that catered to the needs of women interested in business backgrounds and wanted a place where they could be exposed to more career opportunities in the business world from their undergrad experience. 
HC: What is the purpose of Women in Business and why is it important that Wake Forest has this type of organization?
MN: Our mission statement is to provide women in the club with professional development, mentorship, and networking opportunities. It's kind of a place to empower women and give them opportunities in the business field and information that they wouldn't get elsewhere and how to pursue these opportunities. It's important that Wake has this because we didn't really have an undergraduate women business club, we have a graduate one, but I think it is more important that undergrads have this opportunity too because as an undergrad, you don't always know what you're doing and what opportunities to pursue. I know that when I was a freshmen and sophomore, I had no idea what events I had to be going to and what my resume should look like. It's hard to know right away how you can make the most out of your career and academic experience at Wake, so I kind of wanted WIB to operate for that purpose.
HC: Can you tell me about some of the steps you have been taking to advance and develop the organization?
MN: So, we are currently not chartered and it has never been a chartered club at Wake. The two seniors last year didn't really take any organizational steps to create a strong foundation, so, when I took it over I made it my main goal to make it a chartered organization and in doing that, I met with advisors and they basically told me that my main focus right now is to gain as much involvement as possible and have a formal foundation for the club in terms of bylaws and constitution, weekly meetings and an executive board. So those are things that I have had to implement last semester and this semester. 
HC: Ideally, what types of events and projects will Women in Business be coordinating?
MN: Right now, we are really focusing on putting on an event for March because it is Women's History Month so we have been talking about maybe doing a panel with women faculty and professors that the members feel have impacted them in any sort of way and have been executives in the business world before working at Wake Forest. Besides that, we have also talked about doing professional development events such as resume workshops, LinkedIn workshops, and a headshot opportunity. 
HC: Where do you want Women in Business to be a year from now? 
MN: A year from now, I want it to be a formal, well-established club that younger girls seek out because they have either heard of it through the business school, activities fair at the beginning of the year, or through older girls that are members and who want the opportunity to be a part of something that could really expand their undergraduate experience in terms of academic and professional success. 
HC: What do you hope every member gets out of Women in Business? Can anyone join, even non-business majors?
MN: I hope that each member gets an extracurricular experience that they can look back on and say that they were proud that they were a part of that because it actually helped them out a lot, whether it be gaining insight from an older member through mentorship or having a networking opportunity that they otherwise wouldn't have come across. And yes, I didn't want this club to be just limited to the business school and the four majors within the business school, because I know many people are interested in the business world and having these skills can benefit many different people, not just an accounting or finance major.
Email [email protected] or [email protected] to become involved!