Year: Junior
Hometown: Raleigh, N.C.
Major: Economics
Relationship Status: Single
Favorite Part about Fall: Leaves changing colors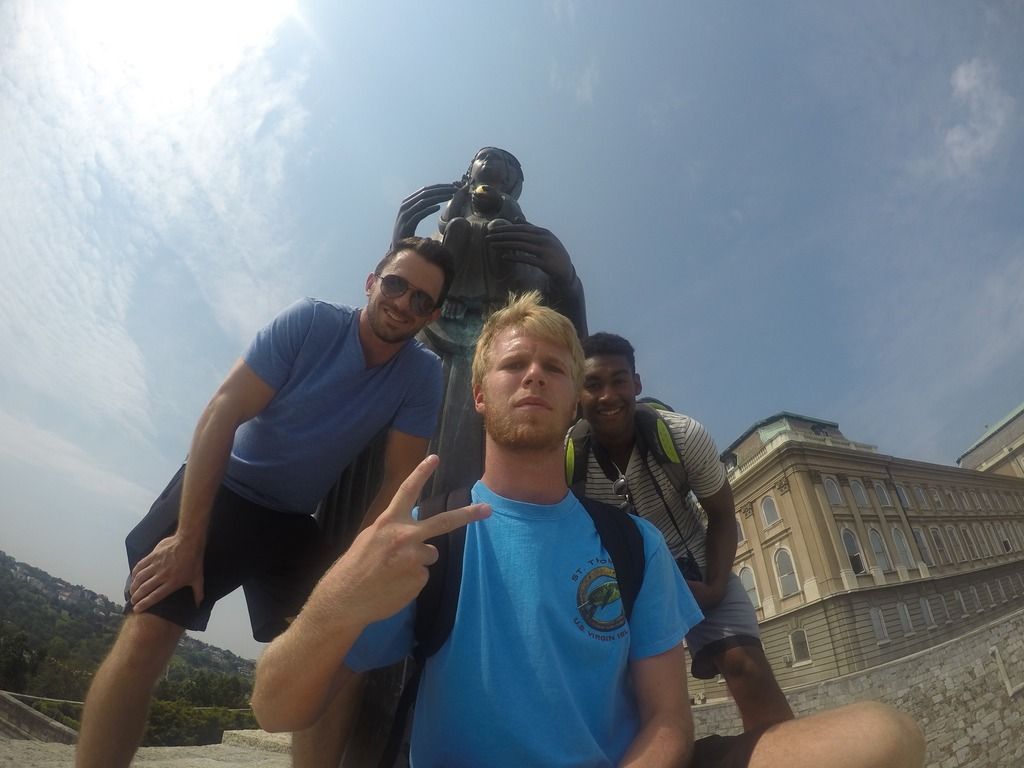 You've watched them from the stands in Spry, collegiettes, and have seen them bring glory to the Demon Deacon name - well now it's time to get up close and personal with one of our very own star players as he tells us all about his experience on the soccer team and his time studying abroad. Meet this week's Campus Cutie, Grant Bishop!
HC (Her Campus): The soccer season is well underway! How's the season been going so far?
GB (Grant Bishop): So far, I think we've done really well. We've started 4-0 and we haven't done that since 2007-2008, so that's huge. We were just on the road last weekend for the first time this season for an ACC game. I think we are doing the right things so far, [so] just keep it going!
HC: When were you first introduced to soccer?
GB: Growing up, I played pretty much every sport. I tried baseball, and the coach wasn't there one day so I just quit (laughs).
HC: No way!
GB: Yeah, so the coach just didn't show up, and I quit. I was introduced to sports probably around the age of four, and soccer was my main – my brother played soccer so I followed in his trail.
HC: How did your passion for soccer develop over the years?
GB: When I was younger, it was a way to interact with [other] kids – an activity [to] make new friends. It was also a time to decompress from school. My alone time. It was a passion that grew and evolved.
HC: What's a favorite soccer memory?
GB: When I was 12, we won the indoor national championships, which was really cool!
HC: Wow! Was that with your travel team?
GB: Yes, that year I was playing indoor and outdoor [soccer], and that was indoor in January. We were in Detroit and won nationals. The year before that, we actually made it to nationals and lost in the finals to the team we beat in the next year.
HC: What do you like the most about being a part of Wake's team?
GB: Family. It's a family atmosphere. They are basically my brothers. We go out there every day and fight for each other on and off the field. In the classroom, if we ever need help, we are there for each other. On the weekends, we hang out. It's something where we can rely on each other if we need help with anything.
HC: What has been the best part about being on Wake's team?
GB: I think my favorite moment was when I first got here freshman year. It was the middle of summer. You don't know anybody. There's nothing to do on campus, and you're nervous about everything. But the guys bring everybody in, and we all just clicked. It was a great atmosphere and changed my life. When the freshmen came in this year, I tried to do the same thing for them – show them the brotherhood and help them to transition quickly. It's something we try to pass on.
HC: Why did you choose to be a redshirt?
GB: My coaches redshirted me freshman year because they want me to stay here once Alec and Drew leave - they are both seniors [now] who got redshirted. [The coaches] wanted to redshirt me so I could stay here and play another year.
HC: How does that process work?
GB: When you redshirt, you can't play that whole year. I didn't play all of freshman year.
HC: So you'll be here for five years then?
GB: Most likely!
HC: I think a lot of people would be jealous of that! (Laughs). So, what are your goals for the season?
GB: My goals are to just keep pushing the team, keep helping out – to reach our potential and allow the team to reach the ACC tournament and play for the championship. Hopefully we can bring one home this year!
HC: What game are you most excited to play?
GB: I think, still – it is always – the UNC game. My freshman year we played UNC at home, and there was a huge turnout. Everybody was excited for that game. We tied it with two seconds left in the game and went into overtime, and it ended with a final score of 1-1, but it just [brought] out the best in everyone. The whole community and campus gets excited for it.
HC: If you could have any super power, what would it be?
GB: Speed. I'm not a fast one! Because I'm a goalie.
HC: What is it like being a goalie?
GB: I love it. I wasn't a goalie until I was 13 or 14. My coach just threw me in goal and said your either going to play goalie and stay on this team, or we are going to drop you down and you can play midfield. I decided I wanted to play [goalie] and stuck it out.
HC: What does it feel like when you stop a goal from going in?
GB: It's an adrenaline rush. It's great. Especially when you get to jump well off the ground to the top corner [of the net]. It's a great feeling.
HC: What do you like to do in your free time?
GB: Sleep! (Laughs). Eat, sleep, and soccer. And schoolwork.
HC: Where do you see yourself in five years?
GB: My goal is to end up in Washington D.C. My mom is from Virginia and grew up in D.C., and I have a friend who is from there, and I just love the area. I spent spring break there. There's something about that city that attracted me there. There's nothing like D.C. You've got the monuments, you've got the parks, water – everything you ever need there.
HC: What qualities must your perfect girl have?
GB: She must have a great personality. I'm kind of reserved, so I want someone who is the opposite from me. Great personality. Funny.
HC: What advice would you give to freshman guys?
GB: Go out there and have fun. Go to as many parties as you want. This summer I went to Austria and studied abroad. I enjoyed that a lot – going out there and doing something I've never done before.
HC: Tell me a little bit more about Austria!
GB: I'm doing Global Trade and Commerce as a minor, so we had to do a study abroad experience.
HC: Oh so you had to study abroad! You poor thing!
GB: Yeah, I was like "Oh darn!" (Laughs). In the spring, I had knee surgery, so I couldn't train. I literally just started training again, so that was the best time to [go abroad]. Two of my roommates said they would [go abroad] with me, so they came along. There was a group of about five of us that I already knew would be there. It was a great time.
HC: What was the coolest thing about studying abroad?
GB: Everything. Every weekend we went to different countries. We went to Budapest and Hungary, Switzerland, and Germany. It was just an unbelievable experience.
HC: Lastly, who inspires you?
GB: My parents, for sure. They have always pushed my brother and me to do the best we can.