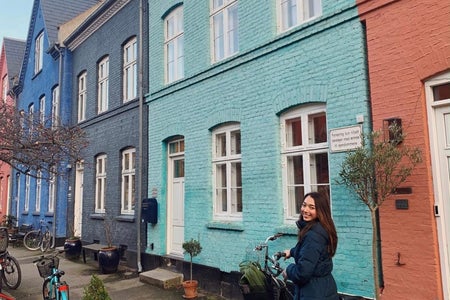 Original photo by Elise Young
Elise Young on her First Year in Copenhagen
Elise Young is currently a sophomore at Wake Forest with an intended Communications major. After returning from her freshman year abroad in Copenhagen, Elise joined the Her Campus editorial team in hopes of sharing her unique perspective through writing. In her free time, Elise plays the piano, paints, develops her film photos, reads Frank O'Hara, and eats a lot of chips and salsa. Elise is going to share her experiences in the Wake Forest Copenhagen program.
Her Campus: How did you get selected into the Copenhagen program and what was your preparation for it?
Elise Young: You write multiple essays as part of your application to Wake Forest and then I had been in touch with the program director, Janice Claybrook, to get more information about the program, which helped them identify me as a potential candidate. I also had been intrigued by Copenhagen as I had done a report for school on it in the past, so when I found out that Wake had a program there I instantly wanted to apply. We came to campus for orientation, which was normal and we learned about classes and living arrangements, among other things. It was nice to get to know each other during that week in August, and then after, we flew to Copenhagen from Winston-Salem.
HC: How many of you were there and how many chaperones were there? Did you all get along with each other?
EY: There were 16 of us including me, and then one RA per floor with two floors. One RA was Danish and one was a Wake Forest graduate. We definitely got along as we had to become more like family than friends. Because we lived with each other and took classes together, we were with the same people 24/7. That definitely had its pros and cons, but we were able to get close and form amazing friendships, which forces you to branch out. I personally made a lot of Danish friends just to get outside of the American cohort bubble.
HC: Did you get homesick at all and how was it dealing with this?
EY: I never got homesick, which was not the case for the majority of the other people. I think it was just because I was so caught up in my school work and enjoyed exploring Copenhagen as a city. Also, because we got to travel pretty much every 3 weeks within the cohort to different countries for a few days at a time. We were taking art history, so we got to travel to actually see the pieces we were learning about, which was such a cool experience.
HC: How was it getting sent home when Covid hit? When and how did you find out you had to go home?
EY: Well, it was extremely traumatizing. In Denmark, Covid cases were really nonexistent at the time, so we thought we would just do online classes for a couple of weeks, and then everything would return to normal. But then, when the Prime Minister announced that the country was going into lockdown, Wake Forest emailed us saying that we needed to book flights and return back to the U.S. within 24 hours. All of us booked flights as soon as possible, but then former President Trump announced the travel ban from Europe, so some of us had to move up our flights to leave even earlier.
HC: How was the experience overall, and would you recommend it to a future Wake student if the program returns post-Covid?
EY: I would 100% recommend the program to anyone who is looking to push their comfort zone and who loves to travel. As part of the program, you have to plan your own travel and cook for yourself, so we pretty much had to become fully functioning adults right as we got to college. But because of that, I was equipped with so many skills that I don't think I would have without the program. I also got to make so many friends and see so many countries that I don't think I would have had an opportunity to visit.