Hometown: Spartanburg, S.C.
Major: Chemistry
Year: Sophomore
Relationship Status: Single
Or course you're excited to be back at Wake for another year, and so is this week's Campus Cutie! This Cutie is stoked to be back at our Mother-So-Dear, where he can belt out beautiful notes in Wake's male a cappella group: Chi Rho, while giving back to the community as a member of the service fraternity: APO. So what is it like being in the recording studio with Chi Rho and dropping an album? Meet this week's Campus Cutie Clay Hamilton to find out!
HC (Her Campus): Welcome back to Wake! What did you miss the most about Wake over the summer?
CH (Clay Hamilton): It's fantastic having your friends living with you, so I really missed the friends I made freshman year. I missed Chi Rho too. That's probably what I missed the most: singing with the guys.
HC: Speaking of summer, what have you been up to these past three months?
CH: I was doing research on campus most of the summer. I work with the Chemistry department with Dr. Welker – he's my mentor. So I spent some time doing research with him. It was a really cool experience.
HC: What kind of research were you doing?CH: The project we were doing involved developing new kinds of bioactive tissue adhesives. So essentially it's a fancy term for surgical glue. It's a really interesting project where we are taking something that we already know works well, like a scaffold, and incorporating and reacting [it] with different functioning groups and different molecules to give it the adhesive properties that you would want in an adhesive glue. It's cool, the inspiration for the project: some of the stuff we are using is what barnacles use to stick to the sides of rocks and boats. There's a bio-mimicry aspect to it. We are also working with folks up at the research branch of the Med School, so I'm doing time both here and downtown. So it was a cool experience. I really enjoyed it.
HC: What was the coolest thing you did with your research?
CH: Getting to go downtown and work with faculty at the Med School was really fascinating because that's where I want to be in a few years. So being able to see that and the innovative and see all the new stuff going on there was really fun.
HC: What's the best part about being back at school?
CH: Not the stress, that's for sure! It's been really good reconnecting with friends and being back in the Wake Forest environment. I had such an awesome experience freshman year academically, socially, extracurricularly, and about every aspect I loved. And so being back and immersing myself in that environment – it feels so good to be back. It's great to see friends. It's great to be on my own again – [to] be back and involved in my organizations too is really cool.
HC: What are you involved in on campus?
CH: I'm a member of Chi Rho. We are Wake's Christian all male a cappella group. We've been on campus for, I think – this is our 24th year in the making. My journey to Chi Rho was a little different. I took piano back home and always thought of myself as a pianist. And I got to Wake and I decided I wanted to do something a little different. I had done some singing at my Church – very low key. And I just said, "Hey, I'm going to try out for an a cappella group," and then I did and got into Chi Rho, and it's just been fantastic so far. Super cool experience. We've gotten to perform all over the place. We perform a lot for university events, charity events, some traveling where we perform at some churches on the weekends, and we took a tour at the end of last year. We went up to New York and did some performing up there.
HC: Tell me about New York!
CH: So there's a guy who is from New Jersey in [Chi Rho], so we stayed at his house. We did some performances in the Philly area, got to do some sightseeing and took the train up to New York for two days, and stayed in the city about a block off of Times Square. So it was so much fun – and just being with that group of guys. We also recorded a studio album in Nashville over winter break last year.
HC: No way! You've got to tell me more about recording an album!CH: Every two years Chi Rho produces an album. There's a platinum recording studio that we have a relationship with – the guy was in Chi Rho here at Wake Forest ten or so years ago. He works in Nashville and is a fantastic producer. So we recorded [the album] over winter break and released it in April. It's on Spotify and iTunes. It's called "The One You Call", and it was a really fun time. Something I never would have dreamed of doing.
HC: What was it like being in the recording studio?CH: He took his garage and converted it into a fully-fledged, professional recording studio. He records for Mercy Me and some really big groups in Christian music. All twelve of us stayed in the studio. Slept there. Ate there. Showered there. It was so much fun and those guys are some of my best friends. Just being able to do music nonstop for a week and to hang out with them was a really fun time. And the album ended up turning out great.
HC: What kinds of music is on the album?CH: We perform a mix of Christian and secular songs. We generally go for themes for albums so for this one, we really want to have most of our music be about the brotherhood, as members of Chi Rho and in Christ. The purpose of the album was to get that message across. Some of songs we selected were from secular artists like OneRepublic. [We also selected] a lot of Christian artists like Need to Breathe, and we picked songs to do covers of and record and perform. We are really happy with how it turned out. It was a lot of fun.
HC: Are auditions coming up soon?
CH: We have an info meeting Wednesday September 2 in Farrell, and our auditions will be Monday the 7th. We will be auditioning and looking for guys: freshmen, sophomores, juniors – doesn't matter what year you are. It's a really cool opportunity to not only be able to do things you wouldn't imagine, like recording in a professional studio or performing all over the country, but it's such a great group of guys. It's really a brotherhood.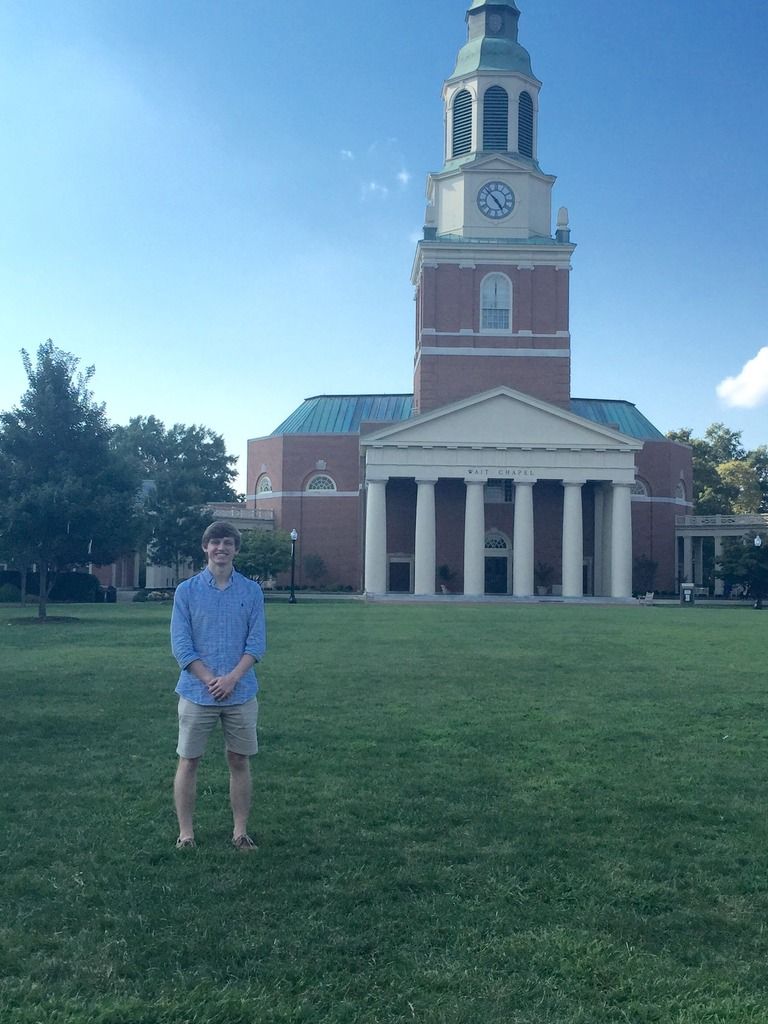 HC: Are you involved in other organizations too?
CH: I am also a member of APO: Wake's co-ed service fraternity. Rush is coming up for that too. Freshmen and sophomores and juniors should totally rush for that. I rushed spring semester of freshman year. [APO has] also been a really great outlet and a really great resource for me in the friends I've made who are committed, motivated people – they really care about this campus and the Winston Salem community. We are a service organization, so everyone is into helping out humanity, our fellow man. That's something that really resonated with me. I'm really excited to keep going with that this year.
HC: Did you do a lot of different volunteering events last year?CH: APO has involved students in just about every on-campus outlet you can think of. We do Campus Kitchen, Habitat for Humanity, Hit the Bricks, Project Pumpkin, Wake 'N Shake. We've also got connections off campus in the Winston Salem area. A lot of my friends do El Buen Pastor where they will go and tutor underprivileged students. It's a really good way to get involved in service if you don't necessarily know how best to start. And you can really find your niche just because of the wide variety of people in APO.
HC: Was there a specific event that you really enjoyed last semester?
CH: I loved Wake 'N Shake. Super fun day. I did the full twelve hours, which was completely worth it, although very exhausting. Wake 'N Shake was so much fun, and it gives really good perspective because of the stories they do throughout the day – the stories of cancer survival and how support groups got them through that. So it's really fun in a lot of ways and also really humbling. It feels like you are making a difference.
HC: When you were younger, what did you want to grow up to be?
CH: There was a phase when I wanted to be president! I've always liked going to school and learning, and over time I realized that I really love the sciences and mathematics. Not that I don't love English and history, but I feel like my place is in the sciences and chemistry. I can't say I had any idea when I was a kid!
HC: If you were a woman for a day, how would you spend it?
CH: First off, I would try some singing. See if I could hit some high notes that I am not normally able to do. That would be cool!
HC: What's the best pick-up line you've used?
CH: I don't use pick-up lines, Haleigh, in all honesty. Would I say I use pick-up lines? Not really.
HC: If you could take a girl on the perfect date around campus, where would you take her and what would you do?
CH: I love coming up when it's nighttime and sitting here at Subway or up on one of the tables in Reynolda and just looking at the Quad and Wait Chapel lit up at night. Beautiful view. Watching people walk around. It's mostly just because I really love Wake Forest … an embarrassing amount. For me, just to go look at campus – is something I love. It's beautiful. If it's right there, why go off campus?