Name: Artur Grzesiak
Year: Freshman 
Hometown: Warsaw, Poland
Possible Major: Either History or Marine Biology
Relationship Status: Single (and looking!)
Favorite Food: Traditional Polish food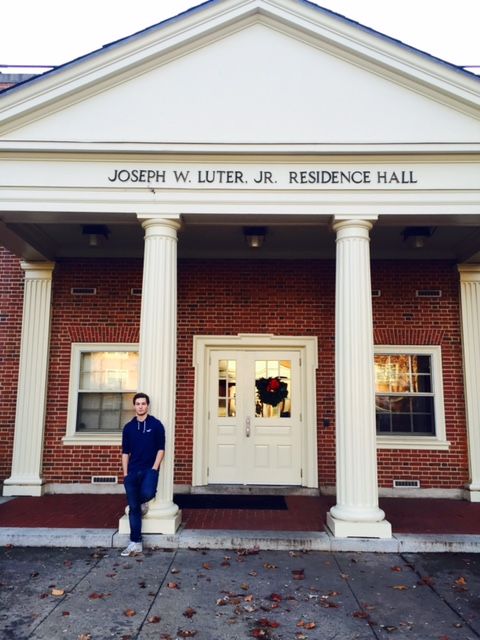 This week's Campus Cutie is from across the pond and looking to make Wake his new home.  He's optimistic and enjoys the simple things in life – meet Artur Grzesiak!
HC (Her Campus): So you're from Poland.  How did you decide to come to Wake?AG (Artur Grzesiak): I found Wake on the internet actually!  I had no idea what it was going to be like before I came here; since then, it's just been one big surprise.
HC: So you didn't visit Wake?  You just went in blind?AG: Yup.  It looked very "old school" with the brick buildings and everything.  It seemed like a smaller campus, so maybe that's why I wanted to come here.  It looked nice, and the pictures were amazing.
HC: Has Wake lived up to your expectations so far?AG: So far I love it!  At first, I thought it was huge.  When I came, it seemed like everyone already knew everyone, but people here are very accepting.  I thought there was going to be a lot more cowboy boots and hats here, but it turned out to be more preppy, which I think is a good change.  The first couple of weeks were a bit difficult, but now I'd like to think I have a good routine and a great group of friends.
HC: Glad to hear!  What are you involved in or looking to become involved in on campus?AG: As of now, I just do intramural sports – [I play] soccer for two teams and [I'll play] volleyball when the season starts.  As a freshman, I didn't really know what was happening on campus, so I'm not as involved yet, but hopefully that will change.  I want to explore more social and academic clubs.  I'm also interested in becoming a part of Greek life.
HC: That sounds great.  What appeals to you about Greek organizations?AG: I'm definitely interested in the brotherhood aspect.  I want to fit in and then get more involved – socially and in service and philanthropy.  I think it's really cool that [the Greek organizations] take care of their own members, but also look out for one other on campus.
HC: Any hobbies and talents?AG: I really like learning about history.  Outside of academics, I love the sea – scuba diving, sailing, and basically all sports.  If I have any talents, they're definitely really hidden, but maybe I'll discover them.
HC: What's your favorite type of music?AG: Rock, but more like chill rock – indie, punk, old school/traditional.  You can put the Beatles in there and maybe something more modern, like The Kooks and The Strokes.  Anything that isn't too fast.
HC: We have to know – what's your relationship status?AG: I'm single.  I tend to live in the moment, but I think everyone's looking.  I really like a girl who has a sense of humor and can laugh at herself, [who's] honest and doesn't try too hard.  She's just being herself.
HC: Are you looking for that typical Southern girl?AG: Maybe.  Maybe that's why I came here (laughs) – it's hard to say.  It's definitely something that appeals to me.
HC: So what would be your ideal date with a girl?AG: Mine would be grabbing a cup of coffee somewhere nice and then going for a walk in the park – something simple.  I want to have a conversation – something easy, but it also reveals who you are.
HC: What are you looking forward to most right now?AG: At Wake, and overall, I'm looking forward to getting more involved on campus and my divisionals.  It might sound stupid, but I like exploring different areas of study.  And definitely meeting more people. You might say I "study abroad" right now, but I'd also like to study abroad – maybe somewhere like South America.
HC: What do you want others to know about you?AG: I'm pretty relaxed, fair, and level-headed.  I'm a cat person – cat people have to stick together.  And I have a twin brother, so there's another one of me back in Europe.  He goes to school in Holland.  Our parents wanted one of us to come to the U.S.  We rock-paper-scissored it, and I lost, so I came here.  But maybe I didn't lose. I'm going to say I won.
HC: Any final advice for the future incoming freshmen?AG: I would just say stay positive.  Don't create problems that aren't there.