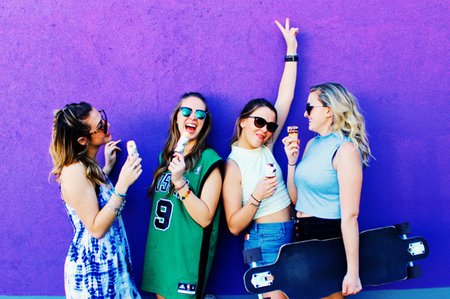 Amelia Kramer / Her Campus
The Art of Making Your Weekends Worthy
A few years ago, one of my friends who graduated from college gave me a piece of advice that has stuck with me today. She told me that the best suggestion she could offer a college student is to make the most of your weekends. Whether that's studying all day to prepare for midterms, going home to relax, or traveling to Mardi Gras to let loose, it's important to be intentional with your weekend time. While the majority of my weekends are spent on Wake Forest's campus, I try to do something new or different each weekend. On Friday nights, my friends and I liked to eat dinner off-campus as a treat. Many times we like to try new restaurants or menu items. And many of my Saturday afternoons are spent watching different movies with my suite on our TV. From Beautiful Boy to Inside Out, we watch all varieties of films. 
Sometimes it can be difficult to make each weekend unique. And I have nothing against Wake or Winston-Salem, but sometimes there are only so many activities you can do in the same place. So, around the middle of February, I decided that I needed a new and exciting weekend plan. Last-minute, I impulsively bought a flight to Nashville to visit one of my high school friends who goes to Vanderbilt. I had never been to Nashville before, and I was starting to feel that my weekends at Wake were blending together and becoming the same. I hopped on a plane on Friday afternoon and a few hours later, I was in a new city with an old friend — it was truly one of the best feelings. My best friend showed me around campus, I met her friends, we ate at her favorite restaurants, and she took me to her favorite shopping spots. 
Nashville's vibe was exactly what I needed this weekend. It is a fun and quirky city filled with enough entertainment to last a lifetime. Aside from the incredible food and amazing music, I really enjoyed the people I met in Nashville. Every waiter, Uber driver, and random stranger on the street seemed so happy and eager to lend suggestions to a tourist in their hometown. I enjoyed the laid-back, friendly nature of the people, and I admire their carefree lifestyles. I loved exploring Nashville and experiencing all its pizzazz. It's safe to say that I will be going back to Nashville someday (hopefully someday soon!), and I cannot wait to continue to explore. 
While I am not advocating for you to leave Wake Forest's campus every weekend and travel the country, this is just one example of how I like to add some variety to my weekends. However, there are tons of other ways to make your weekends count, but whatever you do, cherish them.