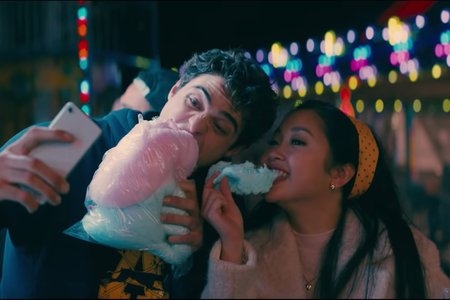 To All the Boys: P.S. I Still Love You
On February 12, Netflix released the sequel to the stellar To All the Boys I've Loved Before. The first was filled with everything a good romantic comedy needs: an underdog who gets the boy in the end, love letters from the past (this reminded me of Letters to Juliet), and relatable situations (ie. high school). The second movie in this trilogy had a lot to live up to, and with an amazing cast including Jordan Fisher, Noah Centineo, and Lana Condor there were big expectations.
The movie opens with Lara Jean and Peter's first official date, revealing the awkward but adorable interactions that are inevitable in such a situation. This was the perfect opener playing off of the audience's affection for such romantic ideals. The movie goes onto explore the dynamics within their relationship once John Ambrose McClaren reenters Lara Jean's life. The plot follows a predictable path, but one that is unique and heartfelt nonetheless. From Peter's obvious love and affection towards Lara Jean through his thoughtful gestures to the friendship developments between Lara Jean and Jen, this movie creates a plotline stacked with things for everyone, especially a romantic.
Similar to the first movie, the second incorporates more fun aspects of traditional romance movies: a fairy godmother, a love triangle, and a final scene where the two destined lovers find their way miraculously back together. These aspects can be found in dramatic romantic movies, however, applied here to a set of circumstances our generation is all to familiar with, makes it even more entertaining.
Sitting in the lounge of our dorm on Valentines Day, my friends and I settled in with high anticipation. We had our Welch's non-alcoholic rosé, our chocolate covered strawberries, and our comfy pjs on. With moments of laughter, silence, and even tears we were gripped until the end. At moments, it was like staring into your middle school mind as you watched the unfolding drama on the screen, but although cliché and predictable, the perfect ending of Lara Jean running into Peter's arms and kissing him in the snow was all we needed to feel completely lovesick and become utter romantics at heart.
Everyone needs these moments, whether with friends or with that special someone. Although love can be sticky (I mean what do I know about love; I'm a college freshman who is single and ready to mingle), it can feel good to just surrender to the hollywood curated idea of romance.