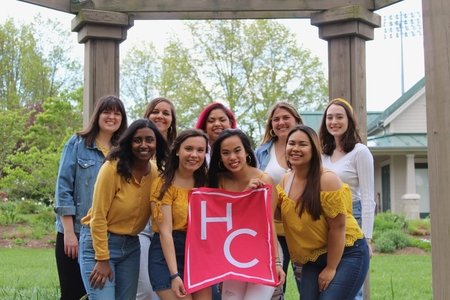 Saying Goodbye to What Made College Amazing
Saying that my college experience was defined by Her Campus is a huge understatement. This is because Her Campus has played a major role in my career aspirations, interests and development as a writer and as a leader. Her Campus wasn't just an extracurricular for me; I have learned so many new things about myself and the world around me because I was involved. Saying goodbye to this chapter and to these friends as I graduate will be a challenge, but I am positive that the connections made here will span beyond these short four years. Serving as Campus Correspondent and the various other roles I participated in has been amazing and I wouldn't change a thing.
For starters, I began my involvement with Her Campus when the Virginia Tech chapter was re-launched in 2016. I was an anxious freshman in my second semester of school, not really sure what I wanted to do with my time in college and not really sure what I wanted to do with my degree. When it came to involvement, I jumped at the chance to get involved with organizations, but didn't know how to lend myself further than that. I was not a leader, I was not a change-maker, I was not pushing myself. I was wholeheartedly looking for purpose, meaning, and belonging - like anyone else - but had not found it anywhere. It was the perfect storm, with the re-launch of the chapter on the horizon, and me, looking for any opportunity to find myself.
Kaley (Class of 2018), the founder and Campus Correspondent, took me on with open arms. She saw potential in my confusion and invited me on-board to work with social media. I had no previous experience beyond posting all of my summer beach photos on an Instagram account and gaining a small following. I didn't know anything about photography, editing, graphic design—the list goes on. I had never taken a class on digital marketing and had not even declared my marketing major. However, it soon all made sense and I was able to help the chapter grow and improve from the start.
Looking back, I am so glad that I set up that initial meeting with Kaley and took the first step towards something bigger than myself. Moving forward, Her Campus gave me stepping stone opportunities to engage in new ways and learn even more about industry work.
Other than taking advanced English courses in high school, I never was a writer. Having the chance to be published and learn alongside a fabulous Editorial Team has helped me get outside of my comfort zone tremendously. Throughout my time in the chapter, I have failed, made mistakes and grown. Every single member of this team has made it worth it for me. I am always floored remembering the person who I was freshman year and how different I am today because of my involvement.
Camden (Incoming Campus Correspondent- Class of 2021), I knew you had something great when I first met you. Your enthusiasm and commitment is unwavering and frankly, shocks me. Your positive energy and quick thinking are always appreciated and I know that you will lead this team to the next level. I am so glad that you have continued to be involved in the chapter and I am so glad to be passing the torch on to you as our next Campus Correspondent.
To my exec team, where would I be without you?! These ladies have made everything easy for me by managing their teams with such grace and leadership. I am grateful for every single bit of input from all of you and for helping me manage this team smoothly. Your work does not go unnoticed and I am excited for both new and returning execs to rock next year and keep this chapter top-notch. Thank you for believing in me.
To my chapter, I will miss every one of you and I am so grateful for your hard work. We have overcome so many obstacles and every time we are in need, someone is bound to step up and handle an issue. From writing and editing extra articles, to posting on social media immediately when someone is unable to, you are always there for each other. I hope you realize how incredible you are and how much of a role you play in the chapter's success. You have talked about, written about and posted about so many crucial topics.
Looking towards the future, I will always hold my Her Campus memories close to my heart. This team of strong women has inspired me greatly and I can't wait to see what they accomplish down the line. Thank you to Her Campus and both our past and present members for the best journey.
HCXO,
Kaitlyn (Outgoing Campus Correspondent - Class of 2019)
Image Sources:
All images courtesy of team and team photographer, Sara Mathew.