Beauty Products I Swear By
Even though I live the all natural, makeup free life, that doesn't mean I don't take pleasure in finding other ways to make myself feel pretty and put together. Beauty products are more than just mascara, foundation or lipstick; there are so many products out there that can help you up your beauty game. Here are some of the products I use in my daily life that I absolutely swear by and recommend to any and everyone.
1.

Garnier Whole Blends Coconut Oil and Cocoa Butter Extracts Smoothing Shampoo and Conditioner

I've been using this to tame my frizzy hair for years, and in addition to its yummy coconut smell, it makes my hair so soft. Even though I've heard you shouldn't wash your hair every day, I have no problems with my hair drying out when I use these products. You can find them anywhere, from Target, Walmart or Kroger.

I recently saw a TikTok of a girl walking through her shaving routine, and let me tell you, I ran to Kroger to pick up some of these razors immediately. I have super sensitive skin, and this razor does the job while leaving my skin moisturized and smooth. 

Also in the TikTok I just mentioned was this shave cream, and I knew I had to have it. I hate to say it, but I use to shave only using regular old bar soap instead of shaving cream. Call me crazy, but I always thought shave cream was a waste of money. But wow, was I wrong; this stuff makes my skin feel like butter and helps minimize cuts while shaving.

I keep seeing pictures of women my age online with the fluffy eyebrow look and I desperately want to achieve this. I decided to start growing out my eyebrows a couple of weeks ago and ditch plucking them every now and then, and I realized I needed something to shape them to get the fluffy look. After some online searching, I found out that Ulta sells this clear eyebrow gel, and after the first use, I was hooked. This stuff really does hold my eyebrows in place all day, even when I go to the gym, which says a lot.

5.

Daily biotin and women's health vitamins

Despite my OB-GYN telling me for years to start taking a daily vitamin, I didn't start taking them until a little while back. Even though I don't see any noticeable changes while taking it, it's important to stay healthy and get all the vitamins and minerals that you need. In addition to a women's daily vitamin, I also take a biotin supplement, which has had great side effects. I've noticed that my hair is so much softer and shinier and my nails grow a lot faster. Take your vitamins, everyone!

Whenever I have a pimple that just won't go away, I always grab this spot treatment. I just put a little dot on top of the pimple, let it dry, and go to sleep. Usually, when I wake up in the morning, it's gotten smaller and the redness has subsided. Although it's not an instant fix, it's great for when you know you have to be somewhere tomorrow but don't want anyone to see your breakout.

Lastly, this is the one I love the most. I got my hair dyed a couple of weeks ago and after my hairdresser was finished curling it, she sprayed this magical stuff into my hair. What I love most about it is how amazing it smells, but it also adds some texture to my hair. I'm not even 100% sure what it does, but I need it in my life forever. If you're a Blacksburg local, you can head over to CharMarie Salon and pick some up for yourself.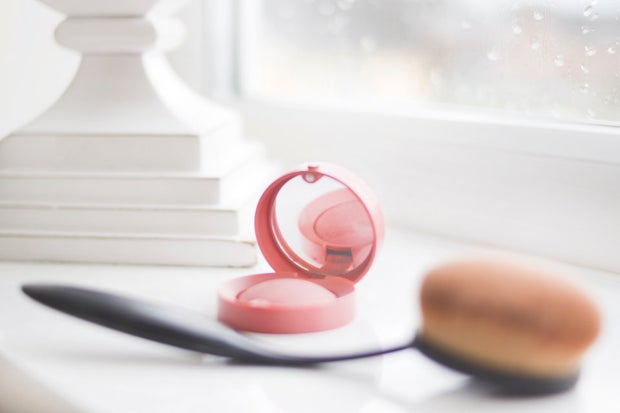 Photo by Studio 7042 from Stocksnap These products help me love myself and feel presentable in my everyday life. I honestly couldn't live without them, and I feel so adult saying that. When I was a teenager, I would just wake up, brush my teeth and hair, and I was done. Now, I have a whole routine, unless I know I'm not going anywhere that day. Hopefully, my list of products will inspire you to figure out what you like, or maybe you'll incorporate some of these into your own routine.