Self-Made: A Story of Struggle That Led to Success
When you're cooped up in quarantine there isn't much you can do other that eat, sleep, work, and go on the occasional Netflix binge. Recently I did just that, I binged this show on Netflix titled Self-Made: Inspired by the life of Madam C.J. Walker and it was one of the best miniseries I have seen on the streaming service in a while.
Octavia Spencer stars in the eight-episode series. Based on the biography On Her Own Ground by A'Lelia Bundles—Madam Walker's very own great-great granddaughter—the show follows "an African American washerwoman who rises from poverty to build a beauty empire and become the first female self-made millionaire." Before you start binge-watching, here are a few key facts you should know about the real Madam C.J. Walker.
Even though now she is known by her married name, Walker's given name was Sarah Breedlove. She was born on a cotton plantation in Louisiana in 1867. Sarah's own parents, Owen and Minerva Breedlove, were former slaves who were freed shortly before Sarah's birth, and both unfortunately died before Sarah was seven years old.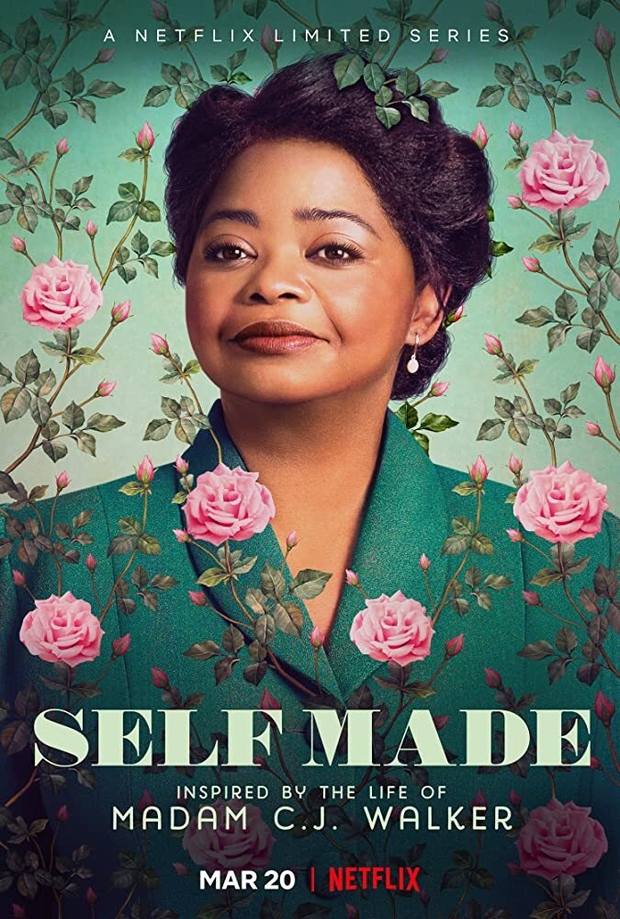 After developing a scalp disorder that caused severe hair loss, Sarah became interested in the science of hair care and started experimenting with a mix of homemade and store-bought remedies for her condition. Around this time, she met Annie Turnbo Malone (whose name was changed to Addie Monroe in the series), an African-American haircut entrepreneur and Sarah's future rival. Sarah became a sales agent for her and was one of Malone's earliest hires. In 1905, she moved to Denver, Colorado and continued to work for Malone. By this time, Sarah had met and married her second husband, Charles Joeseph "C.J." Walker, whose sales expertise came in handy when Sarah decided to split from Monroe in 1906 and develop her own hair care treatment, called Walker's Wonderful Hair Grower. It was Charles who encouraged her to call herself Madam C.J. Walker.
Walker and her husband had been traveling around the South for many years, promoting both her line of African-American hair care products and her "Walker system" of hair care, which was a combination of scalp preparation, sulfur-based products and heated iron combs. Walker opened a factory and beauty school in Pittsburgh in 1908 and ultimately opened to Madam C.J. Walker Company in Indianapolis, Indiana.
By the time of Walker's death in 1919, she was considered the wealthiest African-American self-made businesswoman in all of America. She was also an active philanthropist and donated millions of dollars to causes promoting racial justice and equality. She also left behind Villa Lewaro, a 34-room mansion in Irvington, New York.
If you are looking for an inspiring and encouraging show right now, this Netflix miniseries is for you!