My Simple Spring Skincare Routine
Spring is the perfect time to reset your life. As winter fades away and the weather becomes warming, you should take this time to focus on self-improvement and refreshing your life. This includes getting back on track with my skincare routine, which is something that I have lacked in the past few weeks. I have slightly oily skin, and my biggest concern is my acne scars from high school and my first year of college (because who can actually resist picking at their skin??) I have compiled my skincare routine that I use regularly, based off of the 10-step Korean skincare routine.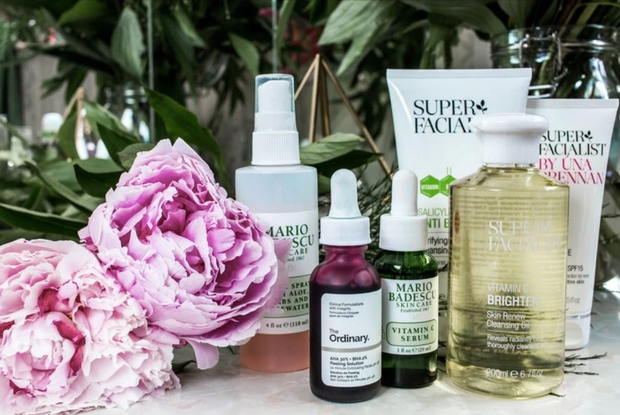 I exfoliate my skin no more than three times per week using various methods. I use a regular exfoliator twice, typically on Mondays and Fridays, and a chemical exfoliating peel on Wednesday. Chemical peels aid mostly in brightening my skin the next morning, while regular exfoliators help soften your skin by sloughing off the dead skin cells in your hands. You need to be careful with both to make sure that you aren't over-exfoliating or being too rough with your skin, which is why it is important to make sure that you are using an exfoliator that is specific to you skin type. I usually only exfoliate at night because it can irritate my skin and make it red.

Toner helps close the pores of your skin as well as give your skin a bit of moisture. Some toners contain her properties that can help lighten dark spots or clear acne, so make sure that you get one that fits your skin type and your specific skin needs. My favorite toner is the Etude House Wonder Pore Toner for the first round of toning as it has a dispenser that you place a cotton round directly on the dispenser and press. I recommend applying with a cotton round for the first round of toner to remove any excess product that may not have come off with rinsing.

I recommend derma rolling your face no more than three times per week. It can be especially harsh if you have sensitive skin and would recommend no more than twice a week. Derma-rolling is the process of creating small wounds in the skin that forces the body to send extra collagen to the surface of the skin, making it brighter and plumper, as well as helping fade the appearance of acne scars. I only derma-roll my skin at night because it can irritate my skin and make my face red and a bit puffy.

Yep, I recommend toning again after you derma-roll your skin because personally, it makes my skin very dry and also can mildly exfoliate your skin as you roll it, so to get rid of any dead skin, as well as to provide a bit of moisture, I tone after derma-rolling. For my second toner, I typically use Thayer's Witch Hazel Toner, which has become a cult classic among the skincare community. I usually splash the toner on my face in order to add more moisture to my skin.

I use a sheet mask twice a week and the one that I use typically depends on what my skin needs. Almost all sheet masks provide a substantial amount of moisture, but I typically seek ones that are brightening or help with acne scars or hyperpigmentation. I use sheet masks in the evening usually, but sometimes in the morning, I will use a sheet mask depending on how my skin decides to act.

Serums are usually very light moisturizers that are targeted to a specific skin need or issue. They can help with things ranging from hyperpigmentation to wrinkles and anything in between. I love the serums The Ordinary has because of their variety and their effectiveness.