As your stereotypical girl, I love shopping. The instant gratification I get from making a purchase is, although fleeting, so rewarding to me in the moment. COVID-19 and, more specifically, the lockdown has done nothing but fuel my online shopping addiction, and as soon as the weather began to cool, I started scrolling through all my apps, throwing items in my online cart with little regard to price or necessity. Reality set in, and I realized I was not being practical, nor was I being sustainable. Why would I spend my entire paycheck on clothes that would be considered out of season next fall and have to go through this nasty cycle over and over (not to mention every single season)? So I did what any broke college student would do: get creative. 
I already had so many pieces in my shopping cart that I had my heart set on purchasing, but I had to change my thinking. After analyzing my closet, I first separated my wardrobe into categories: clothes I absolutely love, the "go away pile" (clothes that no longer fit or had excessive tears or stains to the point where I just couldn't wear them anymore), and clothes that I'm undecided about. I then used the clothes I wanted to buy as inspiration.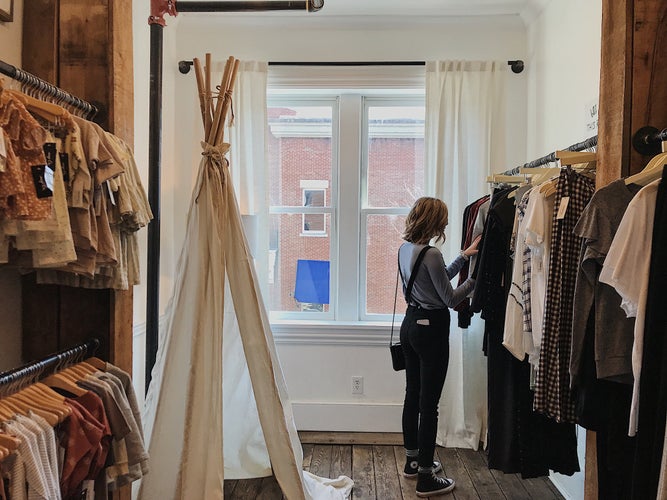 After picking out a green cropped sweater with a crisscross on the front, I went through my pile of "undecided" clothes and picked up an oversized gray sweater that washes me out and just happens to have a similar crisscross pattern on the back. After purchasing green fabric dye (the same color as the sweater online), I dyed the sweater and fully dried it in the dryer in order for it to shrink to the cropped size I wanted. After the sweater was dyed green and cropped, I simply wore it backward, so the crisscross design was in the front and boom—it was almost identical to the sweater I wanted online and almost $50 cheaper. Fabric dye and the washer and dryer can be your best friend. 
Canvas tote bags have been all the rage all summer, and they're continuing on into the fall. Instead of spending your paycheck on an expensive hand-painting tote, paint one yourself! Buy a blank canvas tote, and using fabric or acrylic paint (and maybe a little inspiration from Pinterest), paint on a design that personally resonates with you and your style.
If worst comes to worst and you can't DIY anything you want and you have a little time on your hands, you can always wait for sales or thrift. Sales on clothing items typically come near the end of the season, so you might find some good summer transitional pieces on sale right now. Sometimes, stores have special sales go on mid-season, but you must take it upon yourself to be diligent and check their website for discount updates. In order to save your bank account and your clothing space yet still update your wardrobe, it's important to redesign clothes, use inspiration from items on the market, and of course, thrift.