How I'm Coping With Not Being Able to Gather With Family This Thanksgiving
Thanksgiving has always been one of the days that I look forward to the most each year. The origin of the holiday has always been problematic, given that it involves the colonization of the Americas and indigenous suffering, but I do not celebrate the historical significance of Thanksgiving when I gather with my family. Instead, I celebrate the fact that I'm able to spend time with all of my family and eat phenomenal food that I've been craving all year long. During this celebration, I also take the opportunity to reflect on the origins of the holiday and those that were harmed in its creation so that I don't completely become wrapped up in the American propaganda surrounding Thanksgiving. 
Due to the pandemic, I will not be able to gather with all of the family that I normally would on Thanksgiving. I will only be able to see my immediate family that I live with, and I am very disappointed being that, like most people, I have not seen my extended family for a long period of time. It's especially hard to come to terms with the fact that I will not be able to spend Thanksgiving with my grandmother. My grandmother is disabled and lives alone, so she did not get to leave her home very much prior to the pandemic, and she practically never steps foot out of the house now that a pandemic is occurring.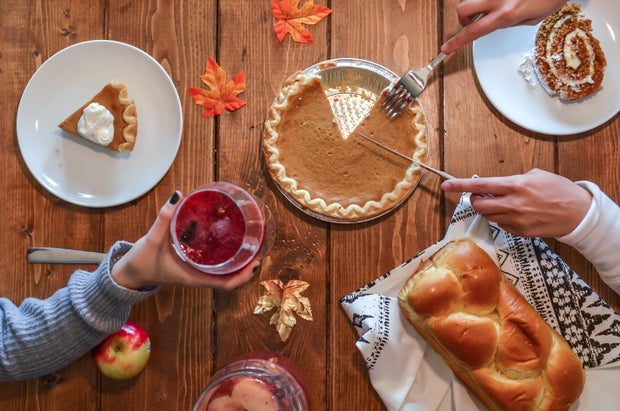 Unsplash / Element 5
My grandmother always cherished the holiday season because it meant that she'd be able to spend time with all of the people that she loves, and this year we won't be able to see her because we don't want to put her health at risk. We will still drop off food at her house so that she can have a nice meal to eat and say hello to her from a safe distance, but that's, unfortunately, all that we can do. As my grandmother gets older, I find that I have to cherish every moment I get with her because as morbid as it sounds, you never know how much longer you have left with someone, so coming to terms with not being able to see her has been really hard for me. Since my grandmother cannot use technology because she is legally blind, we cannot zoom in or FaceTime her to have a virtual dinner either, unfortunately. 
Technology is going to make it a little bit easier for me to still celebrate Thanksgiving with the rest of my family members, though, thankfully. I will be having a big Duo call with my dad's side of the family on Thanksgiving, so it'll be nice to be able to virtually gather with them and still check in with everybody. It won't be anywhere near as nice as being in person, but we are trying to do the best that we can given the situation.
If you are someone that is planning to celebrate the upcoming holidays, then make sure you hang in there. Know that you are not alone in your feelings of disappointment or loneliness, and try to find ways to engage with others virtually if you can. This pandemic has taken away a lot from everyone, but we have to try to find pockets of joy where we can to keep on going. If you are someone who's planning to gather with large groups on the holidays, I also want to urge you to reconsider, I know it seems tempting, but a gathering is going to put everyone's' health at risk. Consider the potential consequences of your actions before it's too late.