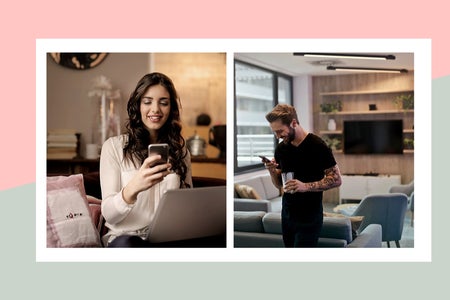 3 Tips For Long Distance Relationships on Valentine's Day
Valentine's Day is a day that allows people to celebrate the people that they love and express how deeply they care for them. Most people in relationships plan to spend time together on Valentine's Day, but that is not an option for everyone. People in long-distance relationships aren't always afforded the opportunity to see each other in person and spend time together, and they have to find ways to feel close to each other from afar.
Some people may think that because you're in a long-distance relationship, your Valentine's Day will be bleak and boring, but there are plenty of ways you can connect with your significant other without physically being in their presence. If you're wondering how you can spice up your long-distance relationship for Valentine's Day, check out these three tips! 
1.

Find Ways to Do Normal Valentine's Day Activities From Afar

Just because you aren't physically in your significant other's presence doesn't mean you can't do things like go to dinner together or go see a movie! If you want to go to a romantic dinner with your partner, you still can via facetime or skype. You both can get dressed up, go out to a restaurant of your choosing, prop up your phone against something and video chat while enjoying your meal. If you want to watch a movie together you can sync up your Netflix accounts and video chat while watching. You'll get to hear each other's commentary and still get to enjoy each other's presence while you watch some movie of your choice!

2.

Come up With Thoughtful Gifts to Give Your Partner

Although you may not be able to physically hand your partner any gifts, you still can send them something in the mail! The gift selecting process works the same way it would in any other situation, all you have to do is think of them to figure out what to get them. Think about things that they need, want, or like. There are plenty of things that they have mentioned to you offhandedly that you could find a way to form into a gift idea. If you're having trouble coming up with ideas, things like candy, clothing, clothing accessories, flowers, candles and electronics are usually good gifts. There are also plenty of sites that will allow you to customize things like clothing, candles, pillows and lamps with images of you and your significant other together⁠—or if you've never met⁠—images of you. 

3.

If You'd Like To Do Things of a Sexual Nature Don't Let Distance Stop You!

Don't feel like your relationship can't be of a sexual nature just because you are doing things long distance! There are so many things you can do to connect with your partner sexually even if you aren't capable of engaging with each other physically. If you are looking for a way to spice things up, you could send explicit photographs to one another, sext, have phone sex, have sex via video call or even use sex toys. There are sex toys on the market that would allow you to sync your sex toy to an app and allow your partner to control its function. Your partner would be in sole control of your toy and be able to provide you pleasure from miles away. If you are interested in potentially using a toy of this nature in public, they have portable toys that can be attached to your undergarments so that your partner can stimulate you when and wherever they please.
There are plenty of ways to show how much you care about someone, you can't let an obstacle like distance stop you from allowing your relationship to flourish. Valentine's Day is a great opportunity to learn more about your partner, enjoy each other and strengthen your bond. It's important that you use the opportunity to your fullest ability no matter where each of you are currently residing in the world. Nothing can quite replace the feeling of actually physically being with the ones that you love, but these things hopefully can help you feel closer to your significant other even with the miles between you!