I attended the Clinton Global Initiative University (CGI U) meeting at Vanderbilt University over the weekend of March 3-5, 2023 with about 700 other students from 92 countries and 42 U.S. states. Over the course of three days, I learned from my peers from other universities, leaders such as former President Bill Clinton, and a series of speakers who shared their experiences and advice.
Each participant had their own commitment to action based on the United Nations' 17 Sustainable Development Goals. My chosen goal was SDG 4, Quality Education, and during the first hour of the conference, I ended up meeting several students who had projects in the same area. I also met students with projects in different areas, but we were brought together by our hope to impact communities both near and far. Here are a few instances from the weekend that stand out as takeaways for me.
In the opening session, former President Bill Clinton spoke about the importance of unity and community in activism. He said, "Our differences are profoundly important, but they only really work when our common humanity matters more."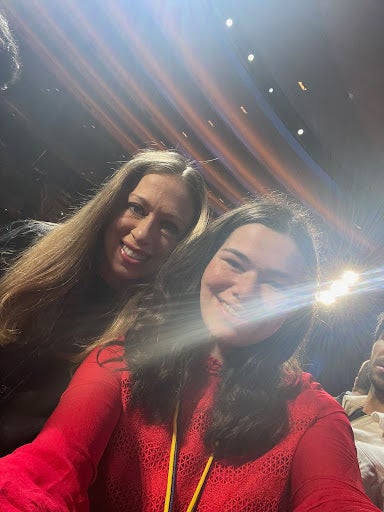 Later in the weekend, I had the opportunity to talk to former first daughter Chelsea Clinton, where I was able to learn more about what she hopes Generation Z will understand. "You are your own best case for optimism," she tells me. This reminded me of the importance of young people's advocacy and voice. She also told me about the most transformative part of CGI U, in her opinion. She shared how being back in-person "reminds us of how important it is to be in community together." CGI U has not been in-person since 2018, and the pandemic has shifted the ways we interact.
That shift in interaction has also taken place on social media. Chelsea spoke to Olivia Julianna — abortion rights activist and director of politics and government for Gen Z For Change — in a panel with guest speakers at the beginning of the weekend. Julianna shared how Florida Rep. Matt Gaetz body shamed her on social media, but she said, "Unfortunately for him, he picked the wrong one." She used her online influence to help fundraise over $700,000 for abortion funds across the country, according to NPR.
In the closing session, I was inspired by President Clinton's discussion with Jaylen Smith, a 19-year-old who was elected mayor of Earle, Arkansas at the age of 18. Smith shared his journey to becoming mayor of his town and said that he initially wanted to be an Arkansas state trooper. He was part of his high school's student government, and he said, "I had a lot of negative comments and feedback from people, but I didn't let those negative comments and feedback distract me." Smith's outlook is one all young people should have.
While the CGI U Conference has concluded, the memories and takeaways are ones I will carry with me.
See more of Her Campus' coverage from the 2023 CGI University meeting here.