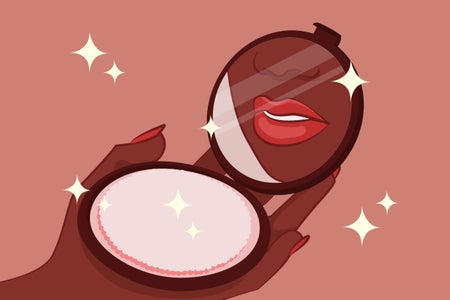 Adebusola Abujade / Her Campus Media
5 Makeup Tips for Women of Color
It can be hard finding makeup looks that fit your skin tone if you are a woman of color. Luckily, there are a few ways to help make that process easier and a lot more fun. Here are some helpful tips for finding the perfect makeup for your skin tone.
1.     Know your skin (under)tone.
Now, some of y'all may think you know your skin tone, but I'm talking red, yellow, warm, or even cool. There are many ways to check what your skin's undertones are so that you pick makeup that fits it the best.
·      The Color IQ test that many Sephora's have in store.
·      Figure out what you look best in. Try out cool colors versus warm colors to give you an idea for what you should look for.
2.     Figure out your personal brand
It can be easy to let influencers or even your friends on different social media platforms have an impact on how you do your makeup. But even though Normani DOES look good in her nude lips and warm eyeshadow looks, that's her personal look. Doing makeup should be fun so try to take the time to figure out what you feel and look the best in and soon you'll have your own personal brand.
3.     Double check that ingredients list!
In this age of mass consumerism, many makeup and beauty brands won't hesitate to slap on the words "organic" or "vegan" on their products in an attempt to sell you what you think will be good for your skin. But be careful! Take into account what ingredients are in that bottle you're holding and what effect it will have on you.
4.     Let it breathe
So, you've figured out your skin tones, you've established your personal brand, and you've done it in a way that leaves your skin happy and healthy. You may be tempted to wear makeup every day, and while there's nothing exactly wrong with that, make sure to listen to your skin and remember to let it breathe sometimes.
5.     Have fun
There is no "right way" to do makeup. If green eyeshadow is your thing, put some on. You're feeling extra bold today and you want a lip color to match that, throw some on! Your decision to wear makeup, or to not, is all yours and you should try to have fun with whatever look you do. 
Got any more tips? Share them with us @hercampusvandy on Instagram or @HCVanderbilt on Twitter!