The leaves are starting to change colors, the wind is blowing a cool current more than normal, and the sweet, crisp smell of fall is approaching us. It's getting to over a month into the fall semester, so why not spruce your dorm or apartment up with some fall decorations? They're already out at your closest retail store probably! You can find some for pretty cheap if you know the right places to go. Target or Walmart has the cheapest selection and the most practical as well. Get ready to add reds, oranges, and yellows to your room, and set your living space to be ready for the chilly fall ahead.
Make sure to stock up on a variety of pumpkin decorations. Try venturing out of the typical orange pumpkin. Having a variety to place around your living space will keep it fun and unique. Mix up white, yellow, or patterned pumpkins. Get big ones, medium ones, and small ones to stack up on each other as well to add some leveling to your decorating. To fill your room to the max with fall decorations, don't forget your walls!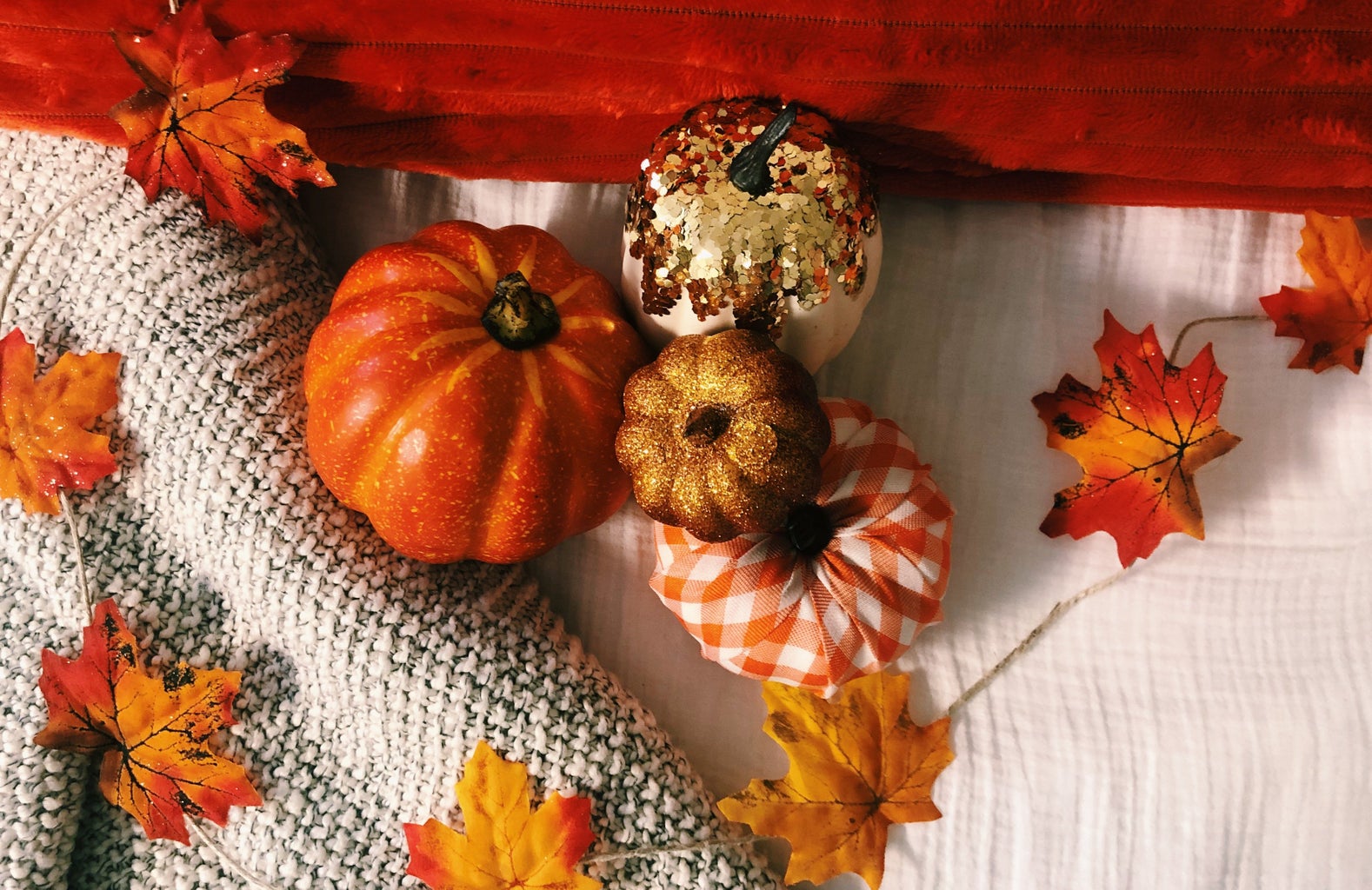 Hang up some LED lights of any color of your choice. Choose an LED light that can change to any color of the rainbow, that way it doesn't only need to be fall themed. You can use purple for Halloween, orange for the rest of the fall season, and twinkling white and blue for the winter. If you don't already have a decorative hanging LED light, you can choose any color for any season or event to add some atmospheric lighting.
Add another fall-themed sensory stimulator to your living space by getting some candles to burn or room scents. For those dorm students, you can also use essential oils or wall plug-ins if candles are restricted. Lately, there have been some beautiful, unique candle holders being released. There are also candle toppers that let your candle light emit a decorated shadow. For those who prefer wall plug-ins, get a decorative one that has a fall leaf or pumpkin decorative piece on it to add more to the fall spirit! Scents like apple, cinnamon, sandalwood, or peppermint are perfect scents for the fall and even for the winter. Find your favorite scent to smell while studying in your room or binge watching your go-to Halloween movie.
Whether you're in a shared living space in a dorm or have more space in an apartment, give yourself a boost in the middle of the semester by adding these fall essential decorations to your room! There's much more you can do, but these are just the basics. If you want to get really creative, go to a nearby crafts store and buy loose, artificial leaves to place amongst the window sills of your living spaces or in a decorative center piece for a dining table. The ideas are endless. Once you buy the decorations, you can always pack them away to use for your future home after college.
-hcxo