Take an Active Role in Ending Sexual Violence: Bystander Initiative Interview
Discussing the subject of sexual violence is a difficult, but necessary, conversation we must have as a community. Fortunately, there are individuals out there who are experts in leading this very important dialogue in an informative and supportive way. I wanted to present an authentic depiction of how our local campus is attempting to combat sexual violence, so I had the amazing opportunity to interview a representative from the UWindsor Bystander Initiative.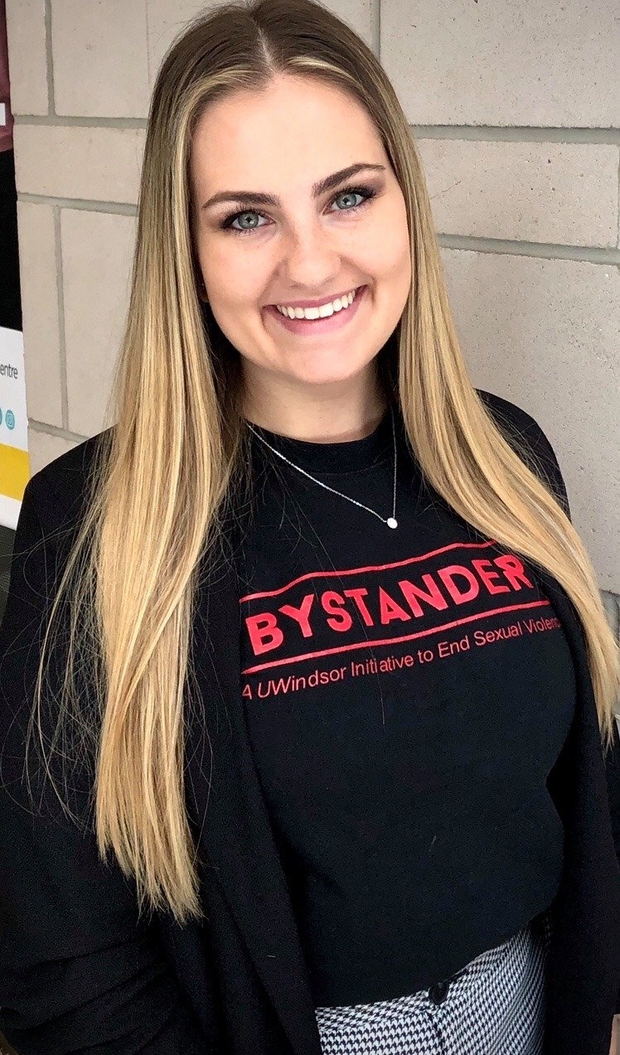 Q: Please introduce yourself and explain your role within The Bystander Initiative.
A: I'm Jessica Glazewski, and currently I am a Campus Outreach Assistant for the Bystander Initiative!
Q: Can you explain what The Bystander Initiative is?
A: The Bystander Initiative is a campus wide program here specifically at the University of Windsor where we offer 3 hour workshops for students to learn how to be pro-social bystanders and intervene in situations of sexual violence before, during, or after they happen. We also offer two curricular courses here that help students complete their degree. The first one is "Practical Strategies for Social Change" where students learn how to navigate consent, rape culture, how and why you should intervene, and the prevalence of sexual violence. The second course is "Practicum in Social Change" in which students learn how to actually facilitate the workshops. This is what makes the program so unique; the students that lead the workshops are so highly trained that they're basically sexual violence prevention educators. Having students in those leadership roles is really important for the initiative to be successful.  
Q: Why should people be interested in participating in the Bystander workshops?
A: Just from the workshops in general, people should get involved because you learn really important information. We know across university campuses sexual violence is a prevalent issue, so it is important to learn how to be a supportive bystander. It is a community responsibility to change what people think about sexual violence and it's important that we are all supportive of each other. When you take the workshops, you learn how to recognize the red-flags, intervene in ways that are most safe for yourself, and help someone that has disclosed to you. 
Q: Do the workshops differ for each gender? If so, how?
A: While the workshops are split up into men's workshops and women's workshops (and gender non-conforming students may choose whichever workshop they feel most comfortable in) the actual content of the workshops are not different. The reason for this is because the research shows having two separate workshops prove most effective as it promotes participation. 
Q: How does participating in these workshops benefit not only our local campus, but the community as a whole? 
A: Participating in these workshops benefits the Windsor-Essex community because not only do you learn about intervention skills, but you also learn how rape culture even exists in the first place. For example, in our workshops we have something known as "The Rape Culture Pyramid". Briefly explained, at the top of the pyramid there are the core offenders and the facilitators (facilitators being the people who help the core offenders actually perpetrate), but all of these things are made possible because our social environment is made up of sexism, rape jokes, and people just not knowing how to intervene. If there aren't people holding the core offenders accountable, these things are likely to continue happening. So, if we teach people that  the persistence of rape culture relies on this kind of social environment, it will hopefully promote people to start changing the environment and speaking up when you hear a rape joke or someone being cat-called. Knowing that we don't tolerate sexual violence in our environment, not only in UWindsor Campus but throughout our entire community, it will definitely start to create social change. 
Q: If someone was interested in volunteering with the Bystander Program, how would they go about doing so?
A: We get a lot of inquiries about volunteering, which is great! It's awesome to see that students are so supportive of the program. Like I mentioned earlier, it's crucial for our outreach participants to have some background knowledge of the program and sexual violence, so it is a requirement that you take one or both of the courses I mentioned earlier. 
Q: Finally, after reading all this, what would you say to someone who still isn't quite convinced on taking the workshop?
A: To people who are still unsure about taking a workshop I would just say - give it a try before you knock it! I can understand why there may be hesitance to get involved, but maybe ask one of us that work for the Bystander Initiative and learn more about the workshops. It is a safe, comforting environment. Our facilitators are trained in how to handle disclosures, so you will always be supported. It's more so about getting an education about sexual violence and how it could help people you know since you're likely to know someone who has ben impacted by sexual violence, whether they are a primary or secondary survivor. There are also a bunch of great incentives for taking the workshops! First year undergraduate students get a $50 UWindsor gift card, all students will receive a certificate of completion, and some courses also offer bonus points for attending the workshops (be sure to check your syllabus!). Overall, I don't see the harm in taking the workshop since it can positively benefit both you and the community as a whole.
For more information on the Bystander Initiative be sure to check them out on social media!
Twitter: @UWINBystander
Facebook: @BystanderInitiative [Windsor Bystander Initiative] 
Instagram: @bystander_uwindsor