As a student, it can sometimes feel like our voices don't matter when it comes to our campus's overall state. Yet at only 20 years old, third-year University of Windsor Social Work student and Outstanding Scholar Noelle Dupret Smith proved this wrong. Noelle's rainbow walkway idea began as a mere assignment for a course and developed into a physical manifestation of positive change and queer representation on our local campus. I had the absolute pleasure and privilege of interviewing her about this amazing accomplishment. During the course of the interview, she shares the process of bringing this project to life in the hopes of trying to promote an inclusive campus community.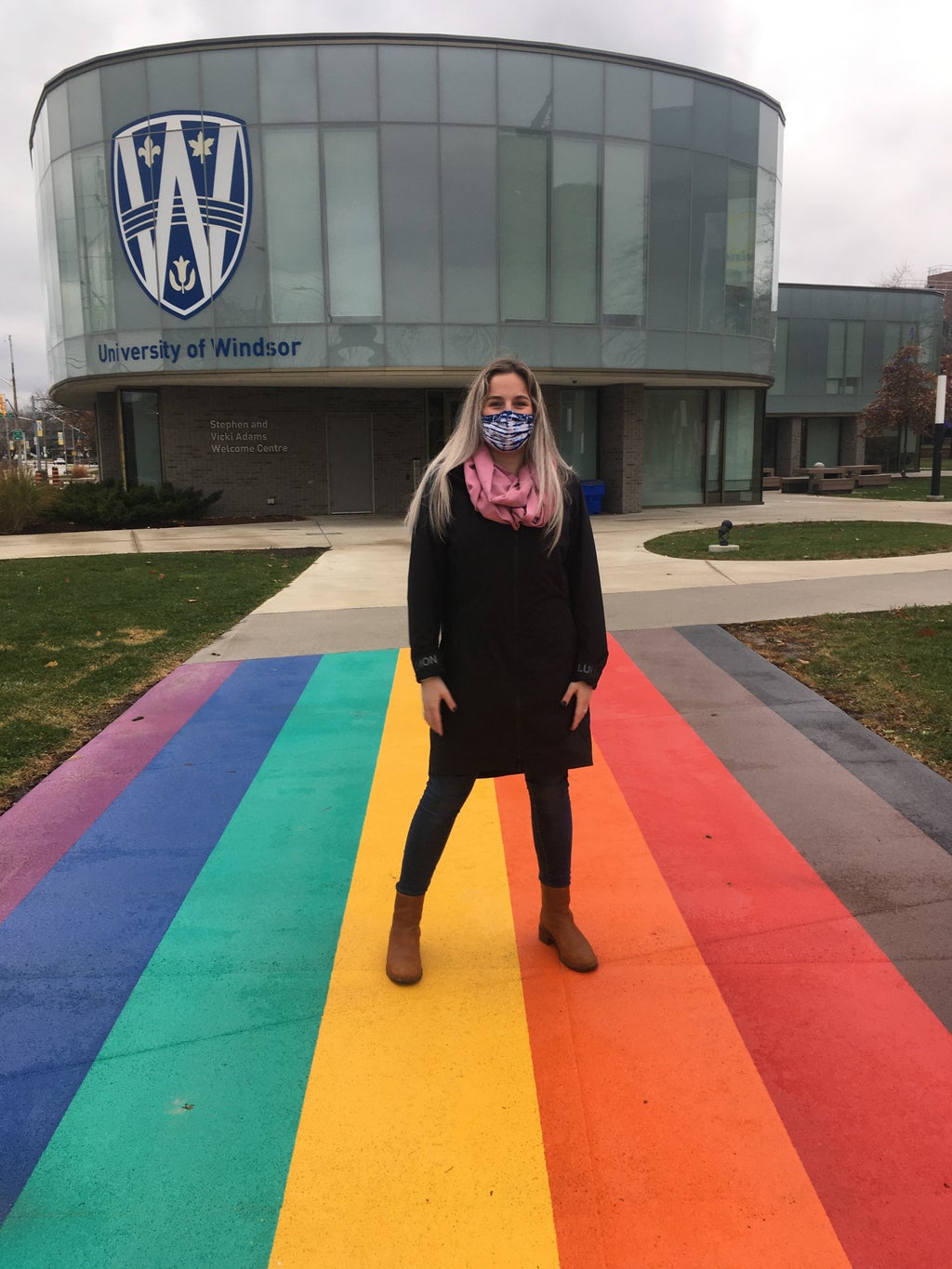 Q: What inspired the idea for the rainbow walkway?
NDS: In my first year at University, I was in Nova Scotia with my mom, and we were staying by Dalhousie. We were walking when I saw a rainbow crosswalk and was intrigued since I had never seen anything like it before. After doing some research, I discovered there weren't a lot of rainbow crosswalks, and when my mom, who is a college administrator, told me they were getting one soon, I thought, well, I want a crosswalk! At the same time, I was taking a course called "Queer Activism" with Dr. Renee Bondy. For an assignment, we had to come up with an "activist toolbox," which could be, for example, an event or a website, and I thought it would be kinda cool to create a template for a rainbow crosswalk on our UWindsor campus. I could work towards this while getting marks for a class and also further advance us actually getting it. I started researching and planning for the project, and that sort of started the base for it all. 
Q: What was the process like as you attempted to make this idea a reality?
NDS: It started off when I went to my professor Dr. Bondy and asked if she thought we could make this project come to life, to which she immediately responded with a definite yes and was a major support for me throughout the entire process. First, we brought it to individual professors and then entire departments, such as the Women's and Gender Studies department, who also supported it. Eventually, it was brought to vice-presidents and finally the president at the time, Dr. Douglas Kneale. I then began to work with various administrators to figure out the cost, different colours we would use, the location, and then the type of paint, which ended up being one of the most important variables to choose. This project went on for about two and a half years, and some of the crosswalks we were using for reference had started to deteriorate, which was something we wanted to avoid so ours would last a really long time. After some research, we ended up using something called thermoplastic paint which is essentially a plastic-type paint that won't end up peeling and will last through the winters. After figuring out all the logistics of it, the crosswalk finally came about!
Q: How do you think the addition of this walkway will impact our UWindsor Campus?
NDS: So I think the addition of these two crosswalks is a small step, but I think it shows our university's commitment to diversity and inclusion. Hopefully, as a result, staff, students, administrators, and visitors will feel more welcome on campus. I hope it reminds staff and administrators of the purpose on campus and what they've committed to. My own personal goal for it was to inspire others to bring their projects and activism to larger levels. In addition to committing it to being an inclusive space, it shows that our university is also committed to supporting and encouraging initiatives run by students. 
Q: How do you think we can continue to make our campus as inclusive and welcoming as possible for people a part of the LGBTQ2+ community? Are you optimistic regarding the future of queer inclusion at UWindsor? 
NDS: As an ally, I have not lived or experienced the same thing that queer individuals on campus have, so while I can't speak from experience I would suggest that as allies committed to supporting the queer community on campus, we should continue offering courses such as "Queer Activism" as it gives students ideas on how to be good allies, but also just how to make our campus a greater space. It also provides great historical context, covering the past, present and future of queer culture. So I think that having courses which focus more on queer lives is a great way to encourage a supportive campus atmosphere. Additionally, while we're online currently, it's important to offer seminars and lectures to continue educating people but that also offer resources such as peer support to support students on and off-campus and make sure the university supports students while we're there or not. 
Noelle was also kind enough to provide some of her favourite resources for learning more about feminist/queer culture: 
Bitch Media: Great for book recommendations and quick reads and also offers podcasts. 
About Canada: Queer Rights by Peter Knegt (Book): Provides detailed analysis on the history of the queer community and mentions Windsor as well. Also really highlights the importance of activism. 
@the_queer_counselor (Instagram): Provides great information and really gets you thinking about topics that may not be mentioned in mainstream media.