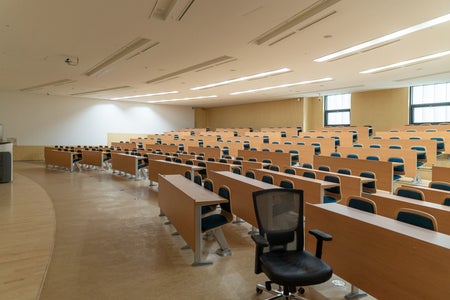 Being a Mature Master's Student: An Interview with KC Santo
Are you considering going back to school, but are concerned that your age might interfere with continuing your education? I interviewed KC Santo about her experience as a mature student pursuing her Master's degree. KC is a very good friend, talented editor and writer, and one of the kindest individuals I have the pleasure of knowing.
Currently completing a Master's degree in English Literature and Creative Writing at the University of Windsor, and the Editing Certificate at Simon Fraser University, KC is considering launching her own business in proofreading and editing services.
HM: Thanks for sitting down with me today, KC. Can you start off by telling me what encouraged and motivated you to continue your education and enroll in a Master's program?
KS: Thank you for having me. Honestly—and I know this makes me nerdy—I couldn't get enough of my undergrad. I wanted to continue studying and learning about the ins-and-outs of writing and literature. I felt so excited and passionate about the opportunity to do more that I couldn't pass on the chance. It took me twenty years to finish my undergraduate degree. Sometimes it felt like it just wasn't going to happen. Sometimes it felt like I just didn't have what it would take to get it done. Once I finally finished and felt accomplished, I believed in myself enough to consider further studies.
HM: What is it about a Master's that is different from a Bachelor's degree? What are the things you enjoy most about it, and about your program in particular?
KS: The graduate degree is much more intense than the undergraduate, but in a really good way. The latter gave me a wide scope of topics and a general introduction to each. With the former, we go much more in depth into the specifics of a particular author, era, or genre. My favourite part of each class are the conversations and discussions that stimulate new and exciting ideas for me. My peers are lovely intelligent students who often inspire me to consider ideas that hadn't occurred to me before.
HM: In what way has being a mature student impacted your studies? Were you nervous or doubtful about enrolling in further studies?
KS: I was exceptionally nervous at first. I thought I wouldn't connect with anyone or find anything in common with my peers, but I've made a few friends who don't care about my age. Sometimes I feel like I have more going on behind the scenes than other students because of my age and ongoing responsibilities. For example, my peers don't necessarily have friends calling on them for childcare issues. But that balances out with my perspective on things. I tend not to stress as much about school as they do, perhaps because I have these other responsibilities.
HM: Finally, what would you say to other students, particularly mature students, considering a Master's or further education in general? 
KS: I would tell them it's absolutely been worth the time and money to do something I feel passionate about. While I loved the first iteration of my career, the change has me invigorated and excited about what each day will bring. Being a mature student has provided me with previous life experiences that support my education, and lessons I didn't have to learn at the same time as going to school, such as time management. I'd also recommend choosing a smaller university like the University of Windsor. The English department, in particular, has felt like a second home to me during my studies. The professors and staff have been extraordinarily supportive and kind. I really appreciate that each of them has taken the time to learn my name and develop a professional relationship with me, something I haven't always found when studying at larger institutions.
About KC Santo: After a decade of work in human services helping people experiencing domestic violence or homelessness, it was time for a change. Returning to school, KC fell in love with words all over again. When she's not busy building a career or working on papers, she can be found knitting, hiking, or completing jigsaw puzzles.