6 Things You Need to Survive the Outdoors
This is a sponsored feature. All opinions are 100% our own.
With the temperature dropping and leaves changing colors, there's no better season than fall to head outdoors. Weekend camping trips and day hikes are the perfect activity to get your mind off midterms and finals. Let's face it though, the outdoors can be a daunting environment without the proper essentials. Here are a few items that you shouldn't go without as you journey off on all of your fall adventures.
1. With dirt everywhere, and not to mention the presence of creepy crawlers, it's important to remember to pack your toothbrush in a safe and sanitary place. There's nothing better for the job than a Steripod! This little pod is perfect for a camping rucksack because it takes up little space and keeps germs away. Because of this item's efficiency and practicality, I never worry about what I'm putting in my mouth come brushing time.
2. Blood sugar running low as you tackle the Appalachian Trail? Need a quick sugary pick-me-up during your morning trail run? Grab ahold of a HI-CHEW and just like that your problems are solved. Personally, I make sure to keep a few mango HI-CHEWs with me as I head out for my date with nature. Packed with flavor and easy to toss into a backpack, HI-CHEW candies offer the perfect solution for a sweet tooth.
3. The outdoors can often make it hard to stay clean, especially if you're on a weekend camping trip without bathhouse facilities. My biggest pet peeve in these situations? Dirty hair. I can't stand having dirty, greasy hair so when I found Bed Head's by TIGI Dirty Secret Dry Shampoo I about went to heaven. This dry shampoo takes away the oils I hate, leaves my head smelling fresh and creates the perfect texture for French braids. I wholeheartedly encourage you to take this item along for your next shower-less camping voyage.
4. Are your eyes sensitive to the sun? Are the sun's rays preventing you from spotting your favorite forest creatures? Have no fear because Aeropostale is here providing functional and stylish sunglasses to save the day. Sunglasses are a must-have for journeying outdoors. And, who says you can't look good while stomping around in the dirt?
5. There's nothing better than getting back home from a fulfilling weekend outdoors and jumping into the shower to clean off all the hard-earned grime. Face masks are a step I love to include in my post-outdoor hygiene routine and there's nothing better than Freeman's Masks. Freeman Beauty offers masks for different skin types and needs: Rejuvenating Cucumber + Pink Salt Clay Mask, Manuka Honey + Tea Tree Oil Clay Mask + Cleanser, and Detoxifying Charcoal + Black Sugar Mud Mask.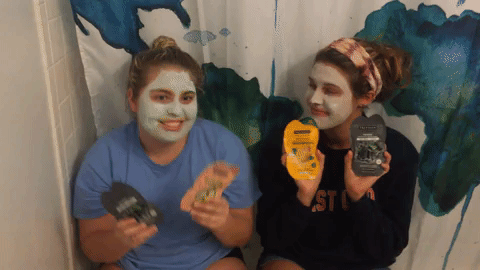 6. Last but not least, having an outdoor trip planned to look forward to during the semester is truly a motivation, and there's no better way to plan ahead than with an Erin Condren LifePlanner. This hardbound, weekly planner is small and compact making it perfect for when you're on the go. Using an Erin Condren planner takes the stress and hassle out of planning the perfect weekend getaway.
All photos by Haley McQueen