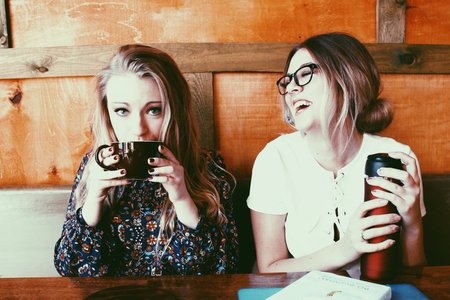 Amelia Kramer / Her Campus
Mocktails for When You're Not Drinking
It's about that time again. When you see the inside of a library more than your regular bar, spending hours late into the night pouring over notes you can't remember the next morning, and living off the hope that it'll all get better soon. You've probably been fighting the urge to knock back a few cold ones, because every professor and health professional alike will tell you that drinking during periods of high stress and performance is a dangerous game. To help you out through this time, we have the resources of culinary and mixology experts to guide you through tasty drinks that will take the edge off without liquid courage.
This sweet drink with just a few ingredients will taste so good that you'll forget all about the stress of that cumulative Chem exam. This specialty drink is made with 4 cups of ginger beer, 1 cup of soda or seltzer water, 3 tablespoons of lime juice, 1/4 cup grenadine, lime rounds, maraschino cherries and ice. All you need to do is stir the ginger beer, club soda, lime juice, and grenadine into large jug or pitcher, pour the concoction into glasses of ice, and garnish with your lime rounds and maraschino cherries. You'll be sure to praise Brooklyn Crafted for their brilliance with this one.

2.

Virgin Watermelon Margarita

This next recipe comes courtesy of FoodDoneLight, and it'll be the highlight of your night as you're drowning in Accounting spreadsheets. All you'll need is one medium seedless watermelon that's cut into chunks, 1/2 cup fresh lime juice, 4 teaspoons of agave, and give tablespoons of sparkling water. With the help of your trusty blender, just puree the watermelon chunks to make four cups of watermelon puree. Then add your lime juice and agave for more mixing. This makes about four cups that you can top off with sparkling water.

Breanna Coon / Her Campus

If something simple and sophisticated is more your speed, just wait until you get your hands on this Danielle Walker recipe. Made with just a handful of ingredients; 6 cups of water, 1/2 cup of honey, 5 tablespoons of dried lavender, and one cup of strained lemon juice, it will bring an aura of sunshine to your day (even if it's raining!). To put all this together you'll just need to boil the water and honey in a pot on your stove, and then gently crush the dried lavender in a separate bowl. Then add the crushed lavender to your pot and remove it from the heat. Next, you'll need to cover, refrigerate, and let come together over two hours. After that time has passed, you'll need to strain the liquid and then stir in the lemon juice. Finally, serve over ice and let your taste buds go wild!

The Third Man comes in clutch with this smooth drink that will motivate you to be the classy and sophisticated person that higher education is molding you to be. Using 2 ounces of pear juice, an ounce of lemon juice, and 3/4 ounce of rosemary-infused simple syrup, you'll be able to create a drink that'll rule them all. Making this heavenly drink requires you to put together all these ingredients in a cocktail shaker with ice, and then serve with more ice or topped with soda water. Garnish with a slice of pear to really bring out the flavor.

Breanna Coon / Her Campus

For something truly unique, you'll have to get your taste buds on this Chris Barry recipe. Using 9 ounces of carrot juice, 15 ounces of apple juices, 2 1/4 ounces of ginger syrup, and 3/4 ounces of lime juice, you're well on your way to liquid gold. Simply combine all of these ingredients, shake well with ice, and strain into four glasses. Your English paper will surely write itself in no time with a drink this neat.

This rainbow in a glass is one of the easiest out there. Brad Nugent starts it out with the key ingredients of one ounce of strawberry juice, 1/2 ounce of lime juice, 3 ounces of pineapple juice, and a helping of club soda. To make this masterpiece, you'll need to combine the lime and pineapple juice in a mixing bowl. Shake this concoction well and strain over ice. Top this off with club soda and put the strawberry juice up on top. Adding a strawberry for garnish is for the Dean's List.

7.

Coconut, Cucumber, Lime, and Mint Cooler

Get yourself this tall drink of happiness with 4 cups of coconut water, 2 thinly sliced cucumbers, 1/2 cup of lime juice, 1/4 cup of sugar, and 1/4 cup of chopped mint leaves. This recipe from Cornelia Guest dictates that you combine the coconut water, cucumbers, lime juice, sugar and mint leaves. Then you simply let this chill for 1 to 2 hours while you look for credible sources to write your Civics essay. Once you're properly sourced and your drink is chilled, you are free to dig in!

While you're memorizing Henry Ford quotes for your big business presentation in a few days, take a short break to make this drink that'll remind you of happier times. The crisp Autumn taste may bring you back to fall semester when everything was easy and breezy, and your most pressing problem was figuring out if your school football team was still in the playoffs. With 10 ounces of apple cider and 1 teaspoon of bumpkin butter, those crunchy leaves are no longer a distant memory. All you'll need to do from here is heat the apple cider and stir in pumpkin butter. If you're feeling up for some extra credit, garnish with cinnamon and send thanks to recipe creator Liana Oster.

9.

Strawberry Chamomile "Martitini"

Add some more class and sweet sophistication with this concoction. The St. Regis Bahia Beach Resort lists several ingredients that you'll need; 1 ounce of elderflower cordial, 1/2 ounce simple syrup, 1/2 ounce ginger juice, 4 ounces of chamomile, 1 strawberry, 5 mint leaves, and a wedge of orange and lemon. Start with mixing up your strawberry with the simple syrup and ginger. Then add the elderflower, chamomile, mint leaves and the wedge of orange and lemon. Finish it out with adding ice and shaking before straining into a cocktail glass (if you're feeling the maximum level of fancy)!

10.

Lemongrass Jasmine Iced Tea

One glass of this and you'll be able to nail your Econ test on confidence alone. Hakkasan brings this delightful drink with a handful of ingredients; 4-5 pieces of cut lemon grass, 1/2 ounce of vanilla-infused simple syrup, 1/2 ounce of lemon, 4 ounces of jasmine tea, and 2 ounces of lychee juice. All you'll need to do is shake with ice, strain into a tall glass, add some ice and garnish with that delightful lemon grass.
Whatever you choose to drink during this stressful time is up to you, but hopefully you'll be able to pull yourself through with some drinks that will take off some of the pressure. Cheers to a successful finals season!
DISCLAIMER: Her Campus does not promote unsafe drinking practices, or underage drinking. Please drink responsibly!