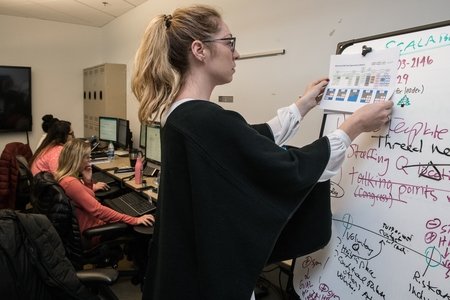 10 Women Activists to Fill Your Newsfeed
There is so much going in the world. So much good, and so much bad. It can be hard to sift through the chaos with everything happening, and you might not know where to start. Thankfully, the world is also filled with an exponential amount of women and girls making the world better each day. Scroll down to see just a few of the women changing everything. 
Jameela is notable for her dedication to the body positivity movement. She started "I Weigh" in 2018 to tackle the prevalant objectification of women in the media, and scrutinization about women's weight. She decided to turn this behavior on it's head and create a community based around weighing individuals on their experiences and achievements. Jameela is also notable for her dedication to calling out problematic media online concerning diet culture. 

Malala was born in Pakistan, to a school teacher father who was determined to give her every opportunity a man would have. She loved school until the Tabliban took away her education, and enforced strict regulations in her community. Malala began speaking out, and got the attention of her oppressors. One day Malala was shot for her actions, and had to fight for her life in another country. When she eventually recovered, Malala was known worldwide for her dedication to women's education and empowerment. She continued to fight for women's rights, and went on to receive the Nobel Peace Prize after creating Malala Fund, a charity for girl's rights. Malala's life was even portrayed in the acclaimed 2015 documentary "He Named Me Malala". 

Emma Watson has an extensive history in activism. Since 2014, she has been working with the UN as a Goodwill Ambassador, she's been a trailblazer for the equality platform "HeForShe", and most recently has been selected for the Gender Equality Council. 

The #MeToo Movement may feel like it's only a few years old, but Tarana Burke was it's creator all the way back in 2006. She's been encouraging people to speak up and take action for more than a decade, and will continue for decades to come. 

Emma is a survivor of the tragic 2018 shooting in Parkland, Florida. Since then, her and several other survivors have created the "March For Our Lifes" movement, geared towards eliminating gun violence. She is also notable for her defiance to the NRA and their lobbyists, telling them "We Call BS" in a speech on their inaction. 

Greta is an environmental activist in Sweden, and has been running a movement for environmental action since 2018. Her and countless others across the globe have been striking and marching with "Fridays for Future" to raise awareness. It's no wonder she was TIME's 2019 "Person of the Year".

Kaylen is known as "The Naked Philanthropist" online, due in part to her inspiring efforts on behalf of the environment. When the disastrous wildfires broke out in Australia earlier this year, Kaylen took to Twitter and offered to send nudes to everyone who could prove they donated at least $10 to a list of recognized environmental charities. Reports have indicated that her ingenuity raised over 1 million to various charities handling the crisis. 

Megan is an all-star member of the phenomonal US Women's Soccer team. Following suit of Tennis legend Billie Jean King, Rapinoe is a strong voice for equal pay, gay rights, and women's empowerment. She's also the current "Sportsperson of the Year" for Sports Illlustrated.

Hannah is a YouTuber known for her strong stance on sex positivity and sexual freedom. She's also explored the destigmatization about the feminine reproductive system, which she writes in her books "Doing It" and "The Hormone Diaries: The Bloody Truth About Our Periods". 

You may know Mari better as "Little Miss Flint", a title she won when she was just eight years old. Since then, Mari's community has suffered greatly from the Flint Water Crisis, and she has been speaking out about and garnering attention the world over. She has worked with politicans, environmentalists, and even President Obama. 
While these are just a few of the women making the world better, there are countless others to look to. Find who speaks to you!